The right choice of hotel is just about the most important factor in ensuring the success of your trip. We have selected a number of interesting options for your consideration and divided them into categories to help you find the hotel that suits you best. To find the ideal St. Petersburg for you, use the search form or browse our St. Petersburg hotel catalog below.
Featured Hotels
In over a decade of organizing hotel accommodation for visitors to St. Petersburg, we've come to recognize which hotels in the city are guaranteed to satisfy, providing not only unique accommodation and exceptional service, but also value for money.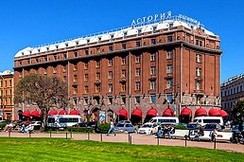 LUXURY
This internationally renowned hotel has accumulated a wealth of history since it opened in 1912. Located opposite St. Isaac's Cathedral, it offers an unparalleled combination of historic character, tasteful contemporary luxury, and superior, personalized service.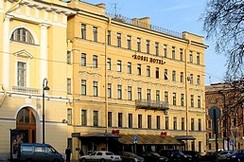 DELUXE
Named after Carlo Rossi, arguably the greatest architect in St. Petersburg's history, this small superior hotel next to the Fontanka River offers a prime loca-tion and beautifully renovated guest rooms with original 19th century featu-res at remarkably reasonable rates.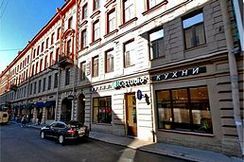 SUPERIOR
For inexpensive accommodation with local character and a superb location for exploring St. Petersburg's "Golden Triangle" of sights and attractions, this small hotel a few steps from Kazan Cathedral and Nevsky Prospekt is hard to beat.
St. Petersburg Hotel Guide
If this is your first time booking accommodation in St. Petersburg, read our brief introduction to find out a little more about the local hotel market and what to expect from your St. Petersburg hotel.
To give you an extra helping hand, our local travel experts have put their heads together to come up with their top tips and suggestions for what to look out for in hotels in St. Petersburg.
At SAINT-PETERSBURG.COM, we've devised our own hotel classification system to give our users a better idea of what to expect from St. Petersburg hotels than the official star-rating system provides.
Now that nearly all St. Petersburg hotels have an official star rating, you can find out here how each property lives up to international expectations for the stars they boast.
Editor Recommendations
Depending on the purpose of your trip to St. Petersburg and your personal accommodation preferences, check our editors' picks for the best hotels in St. Petersburg.
Radisson Royal Hotel
Luxury accommodation and facilities in a fine 18th century mansion on Nevsky Prospekt.
Columb Hotel
Above-average mini-hotel offering comfortable rooms at a good central location.
Nevsky Hotel Aster
Comfortable mini-hotel accommodation in St. Petersburg's historic center.
Sky Hotel
Modern budget hotel just a few steps from the Hermitage.