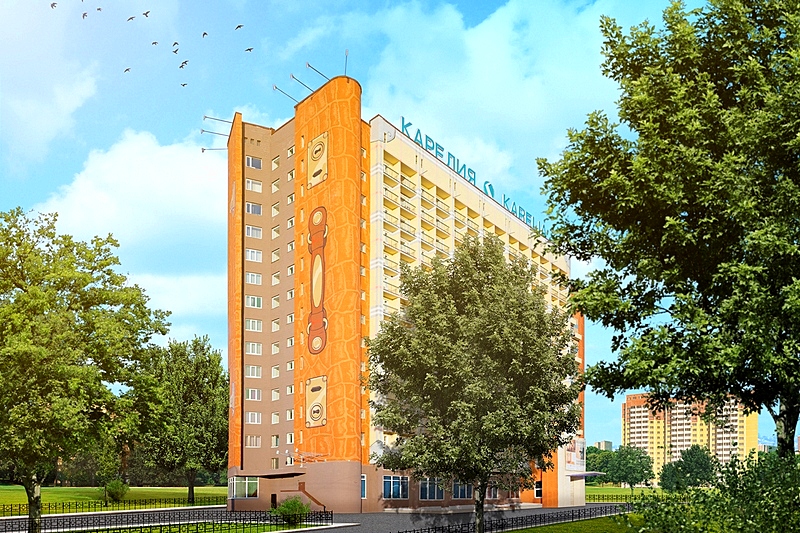 A fully renovated three-star hotel with extensive conferencing facilities, the Karelia overlooks parkland in a modern residential area on the eastern outskirts of of St. Petersburg, with reasonably fast transport links to Nevsky Prospekt and Moskovsky Station.

Offering 256 modern and well equipped guest rooms with WiFi and/or Broadband Internet coverage, the Karelia Business Hotel can provide a full range of standard business and concierge services. Popular for business meetings and celebrations, the Karelia has ten varied MICE venues, with seating for between 20 and 330 people and a huge range of audiovisual equipment available for hire. The Karelia Business Hotel's large restaurant serves buffet breakfast and lunch, and has an a la carte dinner menu. Other amenities at the hotel include a sauna and a large billiards and pool club.

Located in a green part the Okhta district to the east of the River Neva, the Karelia Business Hotel is about 20 minutes by bus from Nevsky Prospekt and the very center of St. Petersburg. There is a bus stop with very regular services right in front of the hotel, and the Karelia also offers its own complimentary shuttle service to and from the center four times per day on weekdays. Although the hotel does not have the most convenient location, this fact is reflected in room rates, which are significantly lower than for similar standard accommodation in the downtown.