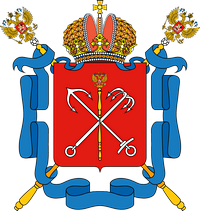 Location:
Eastern Europe, the Eastern shore of the Baltic Sea (Gulf of Finland)
Latitude:
Longitude:
Time Zone:
Founded:
City's birthday:
celebrated each year on May 27
Population:
How does St. Petersburg compare?
The most Northern city in the world with a population over 1 million
Area:
Main river:
Neva. The city is located in the delta of the Neva River on numerous islands, a fact which prompted some observers to call it "The City on 101 Islands"
Timetable of bridge openings:Main natural phenomena:Origin of the name:
Named in honor of St. Peter and not Peter the Great, the founder of the city.

The name can be translated as "The City of St. Peter". St. Petersburg, FL was named in honor of St. Petersburg, Russia by Russian-born railroad builder Piotr Dementyev (Peter Demens)
Name changes:
May, 1703 - August, 1914

St. Petersburg

August, 1914 - February, 1924

Petrograd

February, 1924 - July, 1991

Leningrad

July, 1991 - Present

St. Petersburg
Nicknames:
"The Venice of the North"(referring to St. Petersburg's many rivers and canals)
"The Palmyra of the North"
"The Northern Capital of Russia" (referring to the centuries-old rivalry between St. Petersburg and Moscow)
Symbols:
The Seal:
A sea anchor and a river anchor with a scepter - a symbol of royal power - on a red field.
Local government:
The Governor and the Governor's Office, The Legislative Assembly
Zoning:
20 administrative districts, including satellite towns under St. Petersburg's jurisdiction
Main cultural attractions:
Airports:
Sea port:
Passenger terminal on Vasilievsky Island