State Hermitage Museum
St. Petersburg's most popular visitor attraction, and one of the world's largest and most prestigious museums, the Hermitage is a must-see for all first-time travellers to the city. With over 3 million items in its collection, it also definitely rewards repeat visits, and new-comers can only hope to get a brief taste of the riches on offer here, from Impressionist masterpieces to fascinating Oriental treasures. One estimate has it that you would need eleven years to view each exhibit on display for just one minute, so many visitors prefer to organize a guided tour to ensure they have time to catch all the collection's highlights. Art aficionados, however, may find it more rewarding to seek out for themselves the works that they are particularly interested in.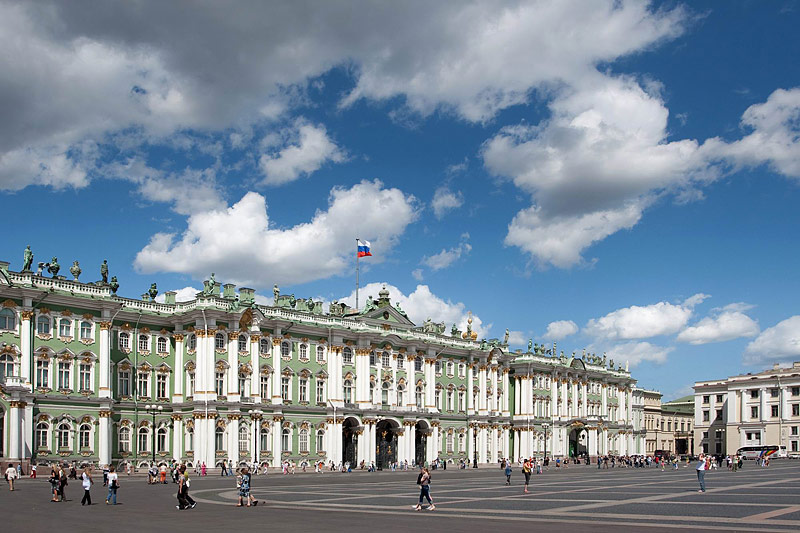 State Hermitage Museum as seen from Palace Square
The bulk of the Hermitage collection is housed in the Winter Palace, formerly the official residence of the Romanov Tsars, and its several annexes. However, there are a number of other sites that constitute part of the Hermitage, including the recently opened Storage Facility in the north of St. Petersburg, which offers guided tours through some of the museum's vast stocks. Our guide to visiting the Hermitage is designed to help you find your way around this enormous collection, with a detailed tour of the main site and individual information on each of the affiliated museums.
Address:
2, Dvortsovaya Ploschad (Palace Square)
Metro:
Admiralteyskaya
Open:
Daily 10:30am to 6pm. Last admission is at 5:30pm. Wednesday and Friday, till 9pm. Last admission is at 8:30pm.
Closed:
Monday
Telephone:
+7 (812) 571-3420; +7 (812) 710-9079
Website:
http://www.hermitagemuseum.org/
Admission:
600 RUB - entry ticket to the Main Museum Complex and the branches (the General Staff Building, Winter Palace of Peter the Great, Menshikov Palace, the Museum of the Imperial Porcelain Factory)
300 RUB - entry ticket to one of the Hermitage branches (Winter Palace of Peter the Great, Menshikov Palace, the Museum of the Imperial Porcelain Factory, Staraya Derevnya Restoration and Storage Centre)
Free admission:
Preschool children, school children, students. Free admission to all visitors on the first Thursday of each month.
Ticket purchase online:
https://www.hermitageshop.org/tickets/ (You can avoid a long line at the museum ticket offices)
Information for Visitors:
http://www.hermitagemuseum.org/wps/portal/hermitage/visitus/
Photo and video:
No flash. Audio-guides are available (deposit required)
Accessibility note:
The museum is wheelchair accessible (ramps/lifts). Free wheelchair rentals. Please call in advance as staff assistance may be required