Hermitage Theatre
The Hermitage Theatre, which stands at the eastern end of the Hermitage complex, across the Winter Channel, was built as a private theatre for Catherine the Great by renowned St. Petersburg architect Giacomo Quarenghi between in 1782-1787. A keen theatergoer, Catherine even wrote libretti for some of the operas performed there, and arranged for St. Petersburg's various theatre troupes to stage performances there two or three times a week. Most performances were attended by a select group of the empress's closest friends and advisers, and a once a fortnight she opened the theatre's doors to the city's diplomatic guests.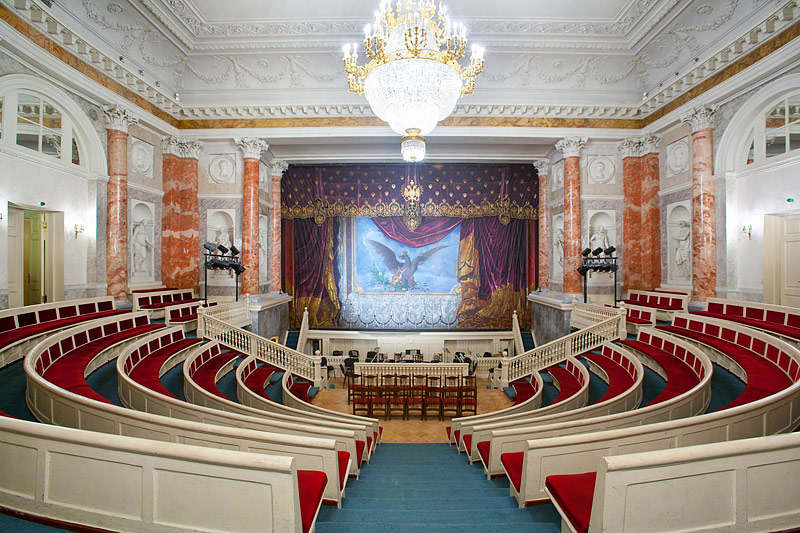 Interiors and stage of the Hermitage Theater
The theatre's fully restored interior is magnificent. Designed by Quarenghi to resemble a classical amphitheatre, it features rich decorations including statues of Apollo and the Muses, and splendid bas-reliefs depicting famous musicians and poets.
The theatre remained part of the royal household, although little used, until the Revolution. After an unsuccessful attempt to revive the theatre by the great avant-garde director Vsevolod Meyerhold, the building was transferred to the State Hermitage Museum, and came to be used predominantly as a lecture and conference hall, a function it still serves today. In recent years, however, it has been increasingly used as a conference hall for a whole range of classical music and ballet performances. The music programme is rich and varied, with several international festivals and the theatre's own orchestra, St. Petersburg Camerata. Ballet there is firmly aimed at tourists, and features a limited rotation of Russian classics performed in strictly traditional manner to very high standards. The theatre is particularly worth considering during the summer months, when the Mariinsky is closed and many of its top performers can be seen here instead.