Peter Demens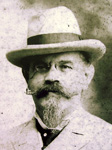 Entrepreneur
Born: Tver Oblast, Russia - 13 May 1849
Died: Alta Loma, USA - 21 January 1919

The founder of the city of St. Petersburg, Florida, Peter Demens was born Pyotr Dementyev to a wealthy family of aristocrats in Tver Oblast. Both of his parents died when he was very young, leaving him to inherit large estates. He was educated in St. Petersburg, and in 1867 he entered military service as a lieutenant, rising to the command of the sentries at the Winter Palace. After leaving the Tsar's army, he returned to the country to manage his estates and become active in local politics, showing some sympathy for popular leaders and radical causes.
In 1880, Dementyev was exiled from Russia, possibly for his political beliefs, which became increasingly anti-Tsarist after the succession of the authoritarian Alexander III, or alternatively due to a corruption scandal. He moved to America with $3 000 and adopted the name Peter Demens. He invested his capital in a lumber business in Florida, and in time was able to take control of the Orange Belt Railway, which he extended to run from coast to coast across the state. One of the cities that were established during the construction was called Odessa. On the 8th of June, 1888, the first train on the railway reached Tampa Bay, where a train station and a hotel were built. Demens called the new city St. Petersburg.
Having reestablished his fortune, Peter Demens wrote extensively about Russian politics and his experiences in the United States, the latter writings collected and published in Russia with some popular success, as well as translating the poetry of Mikhail Lermontov into English. He settled on a ranch in Alta Loma, California, where he died in 1919. In later life, he provided considerable assistance to Russian immigrants of the Molokan Church, a peasant Christian sect that suffered persecution throughout the 19th century, several thousand of whom arrived in California between 1905 and 1912. Demens Landing in St. Petersburg, Fl. is named after him.
Works: Sketches of the North-American United States (Ocherki severo-amerikanskiy Soyedeniyonnikh Shtatov) (St. Petersburg, 1895)