St. Petersburg Floods
St. Petersburg is often threatened by floods as most of its downtown territory is located just several feet above sea level. The founder of the city, Peter the Great, had chosen a very low-lying area on which to build St. Petersburg and from its very foundation, floods were a major problem. In August 1703, three months after the city was founded, the waters of the Neva River rose 6 feet above normal levels and washed away construction materials for the Peter and Paul Fortress. The city has experienced over 270 major floods since then.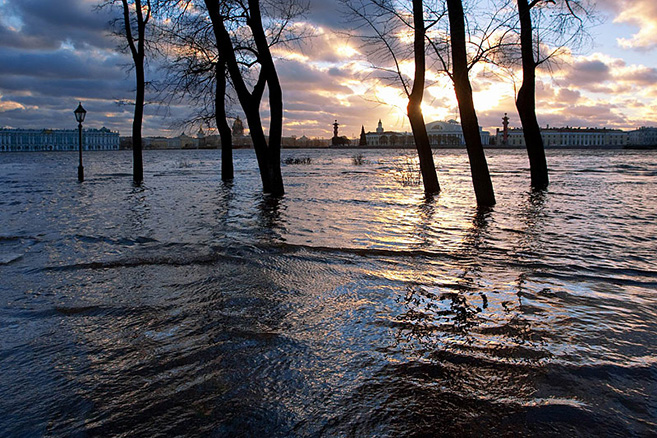 St. Petersburg Floods
The largest flood occurred on November 19 1824, when the river reached 13.5 feet (410 centimeters) over the usual level. On that day most of the city was flooded, between 208 and 569 people were drowned and 462 houses were destroyed. The second severest flood (over 12 feet high) was in 1924. In some areas of the city the water flowed to a height of 7-8 feet and many of the ships in the port were washed ashore.
Interestingly and rather surprisingly, St. Petersburg's flooding patterns are closely connected with the movement of low-pressure air masses over the Atlantic. Low-pressure air moves in from the West, creating so-called "long waves" that bring extra water into the Gulf of Finland and the mouth of the Neva River. Strong Westerly winds then effectively block the flow of water from the mighty Neva into the Gulf of Finland, and the river level is forced to rise and spill the excess water over its banks and onto the city.
Most of the floods take place in the fall and early winter when all the above negative factors combine. Since the 18th century the level of the city's streets has been increased significantly, but some of the areas close to the rivers and canals can still be seriously damaged during major floods. In the 1970s the decision was taken to build a long dam across the Gulf of Finland (west of St. Petersburg), which would protect the city from the affects of the floods. However, the project was not completed due to a huge environmental controversy and a lack of funding. Meanwhile, the problem is far from solved and the city awaits the next major flood with a distinct air of apprehension.