Felten, Yuriy Matveevich (Georg Friedrich Veldten)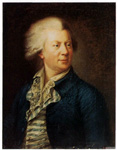 Architect
Born: St. Petersburg - 1730
Died: St. Petersburg - 14 June 1801

An architect who came to prominence in the reign of
Catherine the Great
as neoclassicism came fully into fashion, Yuriy Felten was a prolific designer of buildings in an eclectic variety of styles, an innovative engineer, and an urban planner. He was responsible for some of St. Petersburg's most unusual and intriguing church architecture.
Born in St. Petersburg to a family of German immigrants (his father was an economist working for the Academy of Sciences), Felten studied at Tubingen University and then completed his education at the Academy of Arts on a scholarship granted by Empress Elizabeth. He returned to the Academy as a teacher in 1764, and was appointed its director in 1789.
He began his career as an assistant to Francesco Bartolomeo Rastrelli on the construction of the Winter Palace (1754-1762). When Rastrelli was dismissed from his post as Chief Architect of the Imperial Court, Felten benefited from the enthusiastic support of Ivan Betskoy, Catherine the Great's personal secretary. He continued his work on the palace interiors, as well as designing the Hermitage Bridge, the southern wing of the Small Hermitage (1764-1766), the Grand Hermitage and the gallery over the Winter Channel (1771-1787). Starting with Palace Embankment in the same period, Felten oversaw the replacement of the wooden embankments along the Neva River with granite. He worked extensively on other Imperial palaces, designing the interiors of several halls in the Grand Palace at Peterhof and one wing of the Catherine Palace at Tsarskoye Selo, where he also added the Ruined Tower and the colourful Creaking Arbour to the pavilions of the park.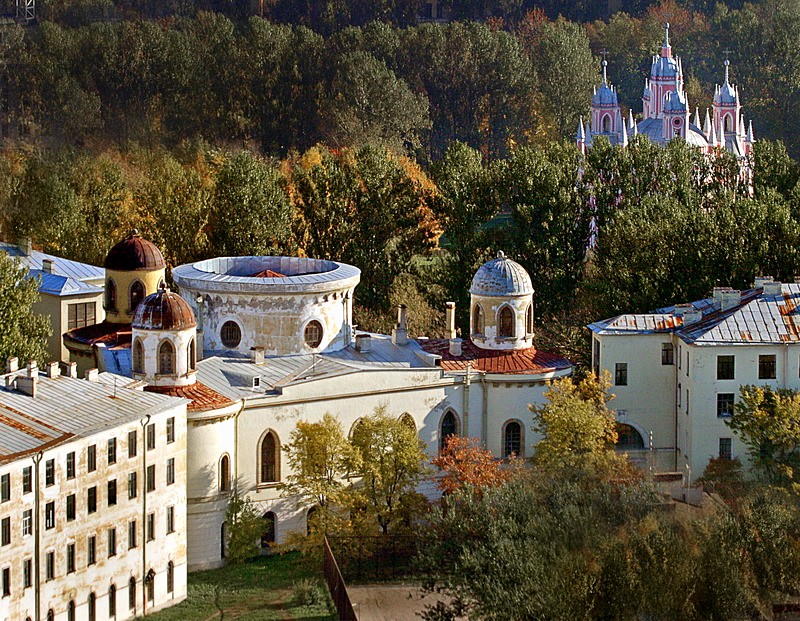 Chesma Church and Chesma Palace designed by Yuri Felten on the southern outskirts of St. Petersburg
His designs for churches include two superb neoclassical buildings for foreign worshippers, the Lutheran Church of St. Catherine on Vasilyevsky Island (1768-1771) and the Armenian Church of St. Catherine on Nevsky Prospekt (1771-1776), as well as the unusual Gothic Church of St. John the Baptist on Kamenny Island (1776-1778) and, perhaps most famously, the extraordinary wedding-cake Chesme Church of St. John the Baptist (1777-1780). Both the latter churches were attached to palaces - Kamennoostrovsky Palace (1776-1780) and Chesme Travelling Palace (1774-1777) - designed by Felten but significantly altered since.
Two of Yuri Felten's most famous designs were not for buildings. Near the beginning of his career he was responsible for the intricate wrought iron fence around the Summer Garden, and he also designed the machine used to move the giant granite rock (the "Thunderstone") that forms the pedestal of Etienne Maurice Falconet's Bronze Horseman.
Works: Hermitage Bridge, Small Hermitage, Grand Hermitage, Lutheran Church of St. Catherine, Armenian Church of St. Catherine, Lutheran Church of St. Anne, Church of St. John the Baptist on Kamenny Island, Chesme Church of St. John the Baptist, Kamennoostrovskiy Palace, Chesme Travelling Palace, Alexandrovskoye College, Ruined Tower (Tsarskoye Selo), Creaking Arbour (Tsarskoye Selo), Ss. Peter and Paul Cathedral (Vyborg)
Addresses: 20, Naberezhnaya Reki Moyki (1773-1784)
Connected with: Empress Elizabeth, Catherine the Great, Francesco Bartolomeo Rastrelli, Ivan Betskoy, Etienne Maurice Falconet