Church of the Birth of St. John the Baptist on Kamenny Island
This small, highly unusual red-brick church was once the private chapel for Kamennoostrovsky Palace, and provides a fascinating counterpoint to another gothic oddity by architect Yurii Felten, the Chesme Church, also named after John the Baptist, which served a similar function for the Chesme Palace in the south of the city.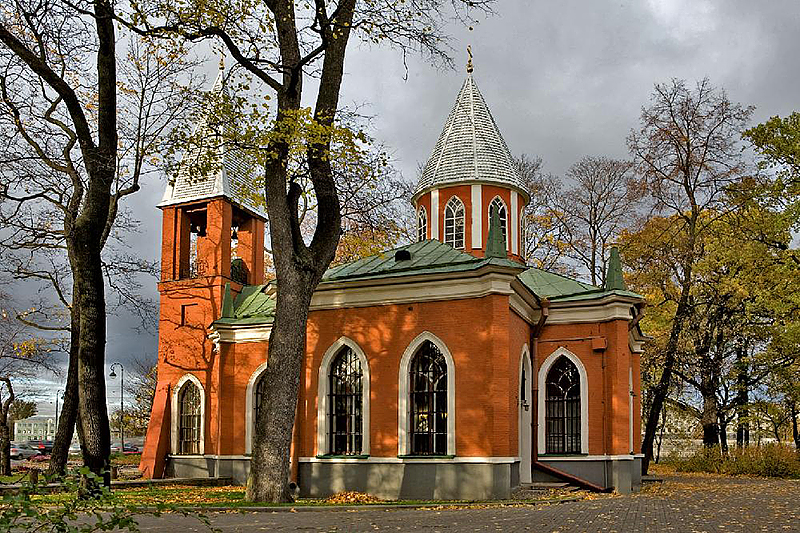 Church of the Birth of St. John the Baptist on Kamenniy Ostrov (Stony Island)
When Kamenny Island was bought by Catherine II in 1765, as a gift for her son Pavel, the church was one of the first buildings to appear. In 1766, a home for injured sailors and veterans of the Battle of Chesme was established on the island by Pavel, who commissioned the church for their use. A decade later, when Felten's palace was completed for the future emperor, the church became its chapel. The church's elegantly simple design comprises a compact cruciform body with a single turret in place of traditional cupolas, and a slender gothic belltower. Pavel's affection for the church was evident from the number of icons and relics he secured for its decoration, and for the fact that he regularly sang with the choir there.
In the early 19th century, when Kamenny Island became the preferred summer home for St. Petersburg's beau monde, the church was frequented by several of the city's most prominent citizens, including Alexander Pushkin, whose Kamenny Island Cycle describes his feelings on visiting the church.
The church was only opened to the broader public after the Revolution, and soon after closed down. It became a sculptor's studio, and then sports hall for the nearby military sanatorium. Felten's rich interiors were almost entirely destroyed. Returned to the Orthodox Church in 1990, the building has now been completely restored, and is once more a fully functioning church.
Address: 83, Kamennoostrovsky Prospekt
Metro station: Chernaya Rechka
From the metro: Turn right from the metro down Kamennoostrovsky Prospekt. Follow the street across the Bolshaya Nevka onto Kamenny Island, and the church is just passed the bridge on your left.
Opening hours: Daily from 9am to 7pm.
For anyone who has the time, Kamenny Island is a fascinating area of the city, especially during the summer. The playground of Petersburg's rich and powerful for centuries, it has numerous unusual and delightful buildings dotted along its leafy avenues. The Church of St. John the Baptist is one of the finest, and one of the few that can be examined up close, so it is well worth a visit if you are in the area. The church is fully functioning, with daily services.
Accommodation near the Church of the Birth of St. John the Baptist on Kamenny Island
Dining near the Church of the Birth of St. John the Baptist on Kamenny Island
RESTAURANTS:
Editors' picks