Church of the Birth of St. John the Baptist (Chesme Church)
This fairytale gothic church is one of St. Petersburg's most unusual and most delightful, although it is a little off the beaten track for most tourists. Located in the far south of the city, it was built under Catherine the Great as the house church for the Chesme Palace, a resting post between St. Petersburg and the Summer Palace in Tsarskoe Selo. It has since been subsumed in a mostly Stalinist residential region, and is now well within the city limits.
One of two fascinating gothic churches designed by the German-Russian court architect Yury Felton, the Chesme Church was consecrated in 1780, on the tenth anniversary of Russia's naval victory over the Turkish fleet at Chesme Bay, which occurred on the birthday of John the Baptist, hence the church's name. A wedding-cake structure with striped crenellated walls and five gothic turrets in place of traditional onion domes, this truly unique church has survived almost fully intact to this day, despite the fact that it was turned, along with the Chesme Palace, into part of a forced labour camp by the Soviet government - the cross on the central turret was replaced with a hammer, tongs and anvil to symbolize the toil of the proletariat. Just before the Second World War, the complex was given over to the Institute of Aviation Technology, which still occupies the palace to this day.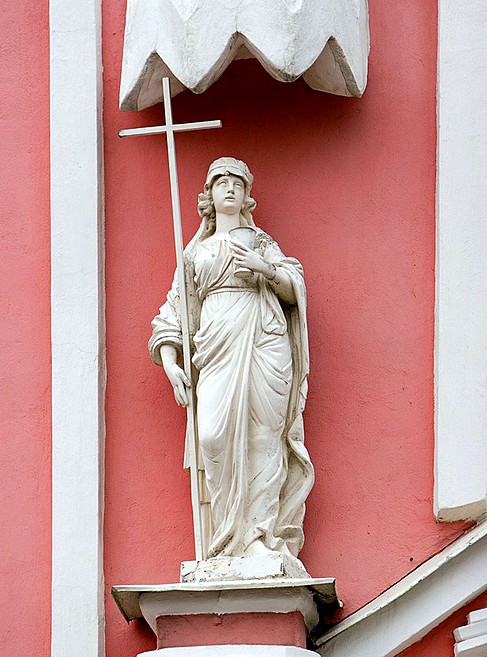 Detail of Facade decorations of Chesme Church
Used as a burial site for war heroes almost since its consecration, the area around the church became a graveyard for soldiers who died during the Siege of Leningrad. In the 1970s, the church became a Museum of the Battle of Chesme, and was eventually returned to the Orthodox Church in 1990. It is now an extremely popular church, with regular services and numerous visitors who come to pay their respects to the war dead.
Address: 12, Ulitsa Lensoveta.
Metro station: Moskovskaya.
From the metro: Traveling from the centre, take the left-hand exit from the station, and walk to the far end of the underpass, exiting on your left. Walk straight down Moskovsky Prospekt, turn right down the next street, and then take the second turning on the left. The church is 50m on, on your right. (10 minutes)
Opening hours: Daily from 9am to 7pm.
Although nothing remains of its original interiors, this charming little church is well worth a small detour if you are traveling to Pushkin or Pavlovsk by minibus - you will be literally following in the footsteps of the Tsars.