Chesemenskiy Palace
Located in the south of St. Petersburg, just off Moskovsky Prospekt, the Chesmenskiy - or "Chesme" - Palace was built in the reign of Catherine the Great as a waypost for the Imperial court on the road to Tsarskoye Selo. The palace was designed by the court architect Yuri Felten and, like his design for the neighbouring Chesme Church, it shows the influence of the early gothic revival in England, and particularly Horace Walpole's Strawberry Hill villa in Twickenham.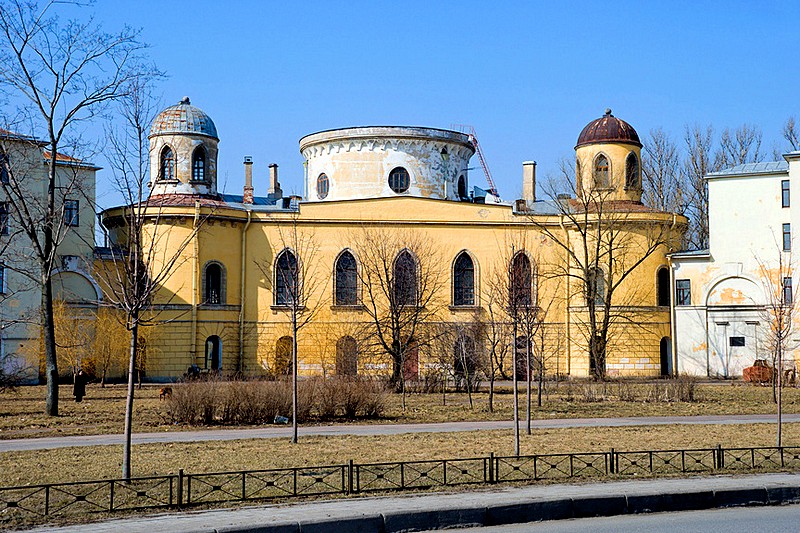 Chesma Palace - once a travelling palace of Catherine the Great
A triangular building with three corner towers around a central turret, the palace was completed in 1777 and named in honour of a major naval victory at Chesme Bay (1770) during the Russo-Turkish War. The Round Hall in the central turret was used by the Empress to present the Order of St. George, the highest military honour of Russia, to commanders including Field-Marshals Kutuzov and Suvorov.
The palace retained its role until the 1830s, when it was turned into an almshouse for veterans wounded in the Napoleonic Wars. Not only were the battlements of the central turret removed, but architecturally unremarkable four-storey wings were added to each of the three corners of the palace to provide more space for accommodation.
Since the Second World War, the Chesmenskiy Palace has been home to part of the State University of Aerospace Instrumentation (formerly the Leningrad Institute of Aircraft Instrument-making).
The famous Chesme or Green-frog Dinner Service displayed in the Hermitage was commissioned especially for the palace by Catherine the Great from the Wedgwood potteries in Staffordshire, England.
| | |
| --- | --- |
| Address: | 15, Ulitsa Gastello |
| Metro: | Moskovskaya |
| Opening hours: | Chesmenskiy Palace is not open to the public. |