Francesco Bartolomeo Rastrelli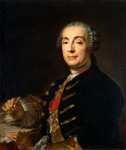 Architect
Born: Paris - 1700
Died: St. Petersburg - 29 April 1771

Francesco Bartolomeo Rastrelli was the last great baroque architect to work in St. Petersburg, and he lived to see the sumptuously ornate style that he championed fall out of favour with the city's elite. Nonetheless, as the creator of the Winter Palace and the Catherine Palace in Tsarskoye Selo, his name is synonymous with the extraordinary, at times excessive, luxury enjoyed and displayed by Russia's Romanov rulers in the 18th century, perhaps the most immediately striking aspect of St. Petersburg's architecture for visitors.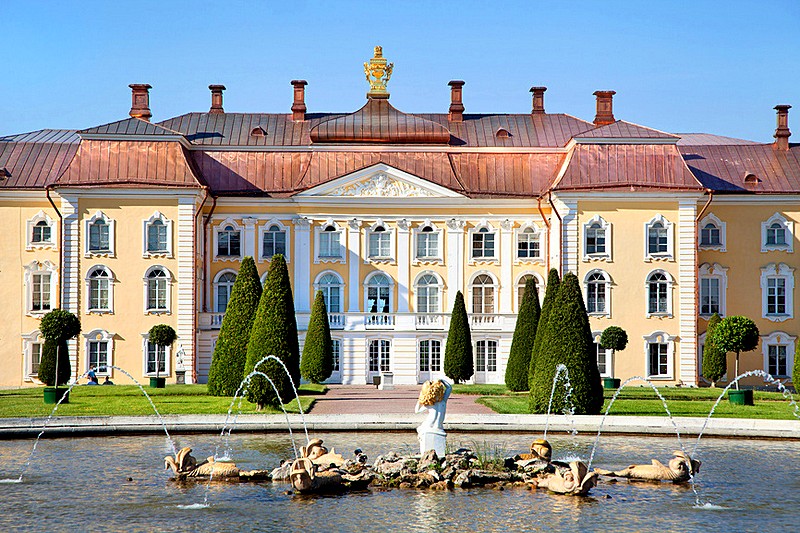 Grand Palace in Peterhof
Born in Paris, he was the son of Carlo Rastrelli, a sculptor who had come to St. Petersburg in 1716 to work for Peter the Great. He began his professional education under his father (also a trained architect), and is presumed to have studied in Europe at some point in the 1720s. His first commission, in 1721, was to build a St. Petersburg home for Prince Dmitrie Cantemir, former ruler of Moldova, on Millionaya Ulitsa, but his career really took off in the late 1730s when he began to work for Ernst Johann von Biron, favourite of Empress Anna Ivanovna. His first project for his new patron was a riding school on Nevsky Prospekt (1730, demolished). He was then sent to the Duchy of Courland and Semigallia in modern day Latvia, where von Biron would become Duke in 1737. There Rastrelli built two palaces for von Biron - at Rundale (1736-1740) and Jelgava (1738-1740). He also became Chief Architect of the Imperial Court.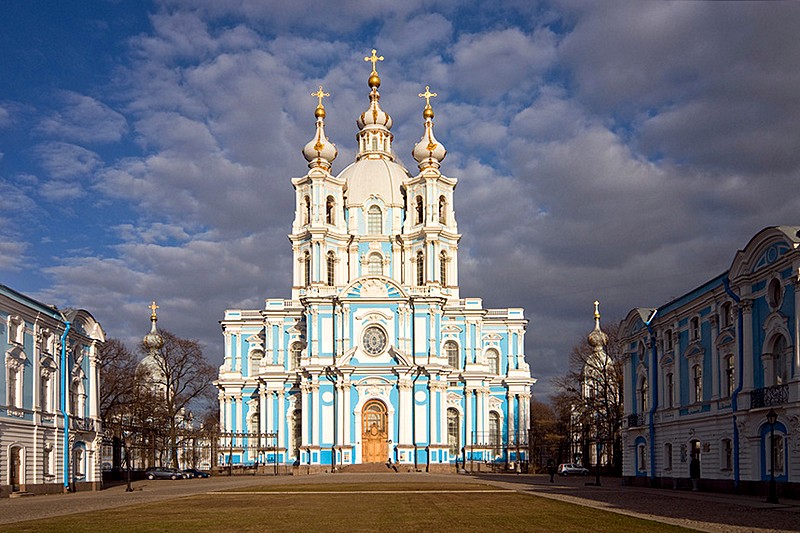 Smolny Cathedral by Rastrelli
When Von Biron fell from power in 1740, Rastrelli was recalled to St. Petersburg and commissioned to design a Summer Palace (1741-1744, demolished 1793) in the Summer Garden for Anna Leopoldovna, mother and regent of Ivan VI. After the next palace coup of February 1741, which brought to power Empress Elizabeth, Rastrelli retained his post as chief architect, but received no new commissions from the Empress until 1744, when she ordered him to build the Mariinskiy Palace as her summer residence in Kiev (1744-1755). The next year, he began work on the reconstruction and redecoration of the Grand Palace at Peterhof (officially opened in 1755).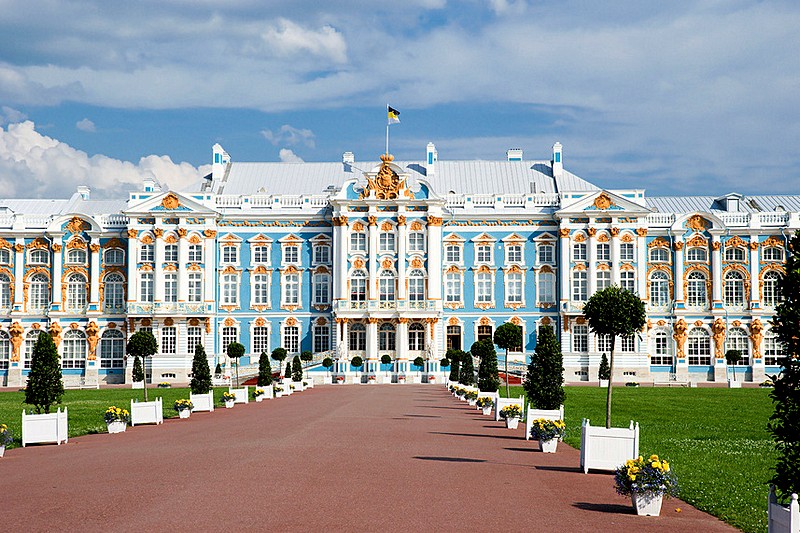 Catherine Palace in Tsarskoye Selo
Rastrelli's next project was the Smolny Convent (1748-1764), where Elizabeth herself had considered becoming a nun. The Cathedral is an undisputed masterpiece of late baroque architecture, although it was still under construction when Rastrelli fell out of favour, and it was not until 1835 that Vasiliy Stasov completed the building. Also in 1748, Rastrelli used an almost identical design for the Cathedral of St. Andrew in Kiev (1748-1767). The same year, Rastrelli began work in Tsarskoye Selo, completing the Hermitage Pavilion in 1749. In 1752, construction began on the Catherine Palace which, for its ornately decorated facades and sumptuous interiors, would become one of the most famously extravagant palaces in the world, reaching far beyond the oft stated aim to create a "Russian Versailles".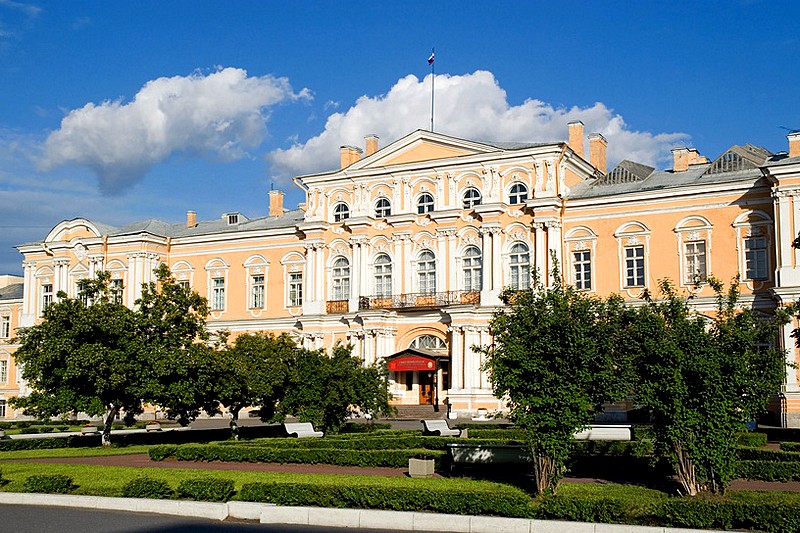 Vorontsov Palace built by Francesco Bartolomeo Rastrelli
Only Rastrelli's reconstruction of the Winter Palace (1754-1762) could match the Catherine Palace for grandeur and excess, and these two immense structures are arguably unmatched in Europe for decorative opulence. In terms of architectural value, however, it is possible that the (marginally) more modest palaces Rastrelli created for Count Mikhail Vorontsov (on Sadovaya Ulitsa, 1749-1757) and Baron Sergei Stroganov (on Nevsky Prospekt, 1753-1754) are a better testament to his talents.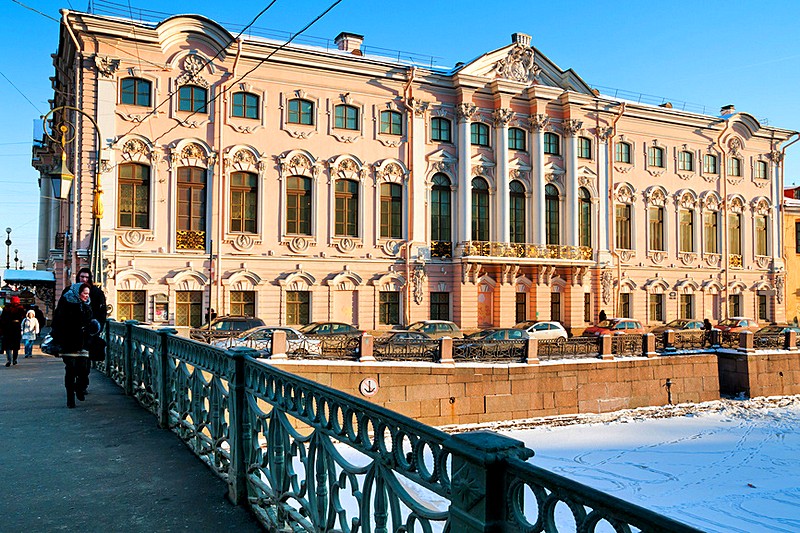 Stroganov Palace built by Francesco Bartolomeo Rastrelli
Soon after the completion of the Winter Palace, Catherine the Great succeeded the Russian throne, and Rastrelli's florid designs proved anathema to her progressive tastes. He was dismissed by the Empress from his post as chief architect in 1763, and returned to his old protector Duke von Biron in Courland, where he worked on the interiors of the two palaces he had created three decades earlier. It is not clear exactly when Rastrelli returned to St. Petersburg, but he was accepted as a member of the Academy of Arts in February 1771, and two months later he died in the city. The site of his grave is unknown.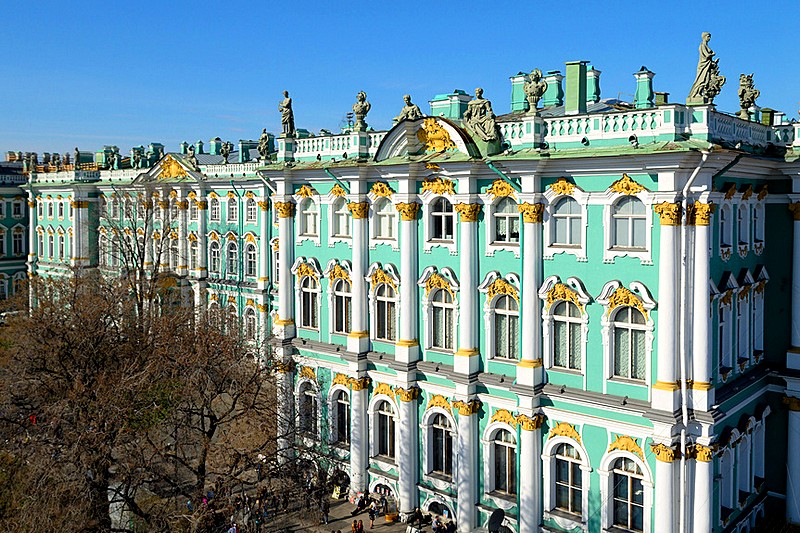 The Winter Palace of the Russian Tsars - Rastrelli's masterpiece
Works: Grand Palace (Peterhof), Palace Chapel (Peterhof), Hermitage Pavilion (Tsarskoye Selo), Catherine Palace (Tsarskoye Selo), Smolny Cathedral, Vorontsov Palace, Stroganov Palace, Winter Palace
Monuments and memorials: Monument to Italian Architects on Manezhnaya Ploshchad, Monument to Rastrelli in Tsarskoye Selo, Ploschad Rastrelli (Rastrelli Square)
Connected with: Carlo Rastrelli, Yuri Felten, Mikhail Zemtsev