Smolny Cathedral
The dazzling cupolas of Smolny Cathedral, one of the most beautiful churches in St. Petersburg, rise majestically from its waterside location on the banks of the Neva River.
Smolny Cathedral was designed by Italian architect Bartolomeo Rastrelli, who came to Russia as a boy with his father, who was invited to the country by Peter the Great and who constructed the Winter Palace and the palace at Tsarskoe Selo. Smolny Cathedral was one of Rastrelli Jr.'s last projects, and one that the great architect left unfinished.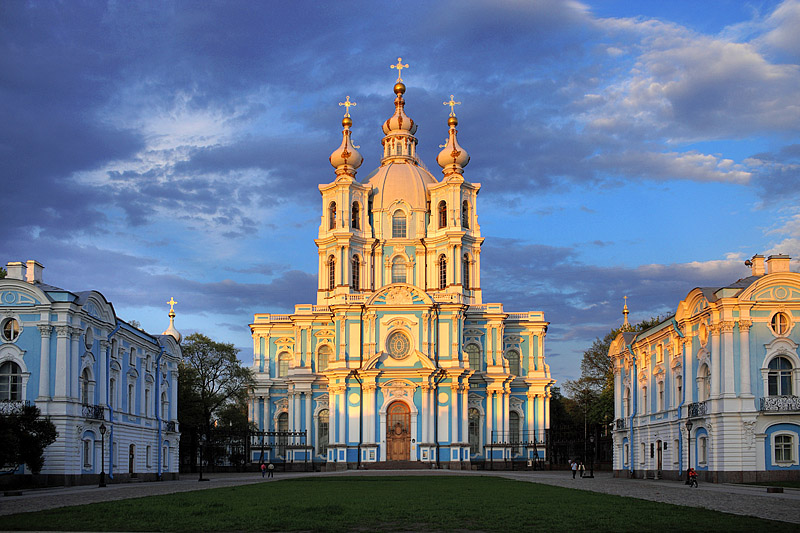 'Postcard view' of Smolny Cathedral
The cathedral was part of a complex planned by the Empress Elizabeth to include a nunnery and a new school for girls - the first and most famous girls' state school in the Russian Empire. Construction began on October 30, 1748, and by 1761 construction of the cathedral was complete. However, in December of that year, Elizabeth died, and work on the monastery came to a halt. Rastrelli was relieved of his duties at Smolny by Catherine the Great, and left Russia in October 1763.
By the early 1830s, much of the cathedral had fallen into disrepair and was becoming overgrown. In 1832, Nicholas I commissioned Vasily Stasov to finish the building. Construction was officially completed in 1835, and the cathedral was on July 22 of that year.
Originally, Rastrelli wanted to a put a bell-tower - designed to be taller than the Peter and Paul Cathedral, at that point the tallest building in the city - next to the cathedral, but his plans were never realized.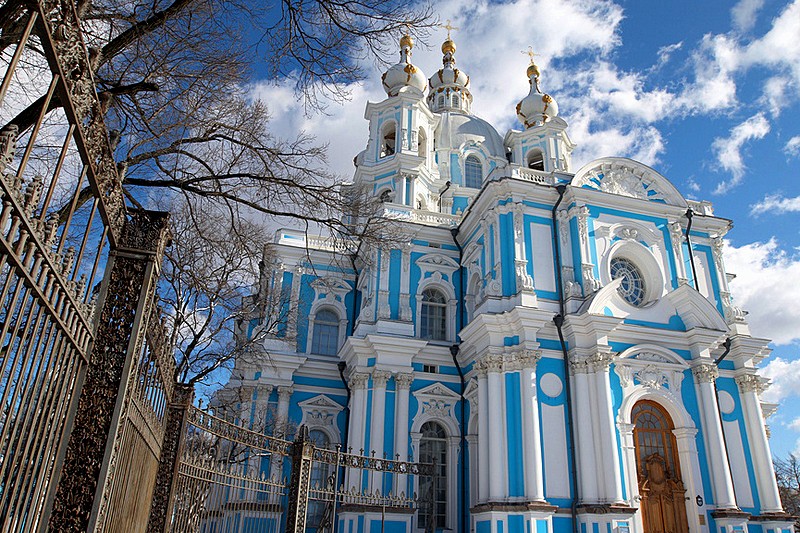 Smolny Cathedral and the wrought-iron fence of Smolny Garden
A half-circle cast-iron tracery fence with meticulous posts and gates fenced in the entrance to the cathedral. The steps in front of the altar were decorated with a cut-crystal balustrade, while the walls and the columns of the cathedral were finished with white marble and covered with sculpted images. The regal throne was located on the right side of the cathedral under a canopy, while on the other side there was a pulpit carved of white Urals marble and decorated with various carvings. The cathedral's Ark of the Covenant was made of 180 pounds of silver. There were numerous icons and paintings including Alexander Venetsianov's famous Resurrection of Christ.
After the revolution, the cathedral suffered a similar fate to most of the churches in St. Petersburg. In 1922, all of its valuables were looted, and in 1923 the cathedral was closed. For many years, the building was not even heated, had no electricity or water, and it slowly decayed.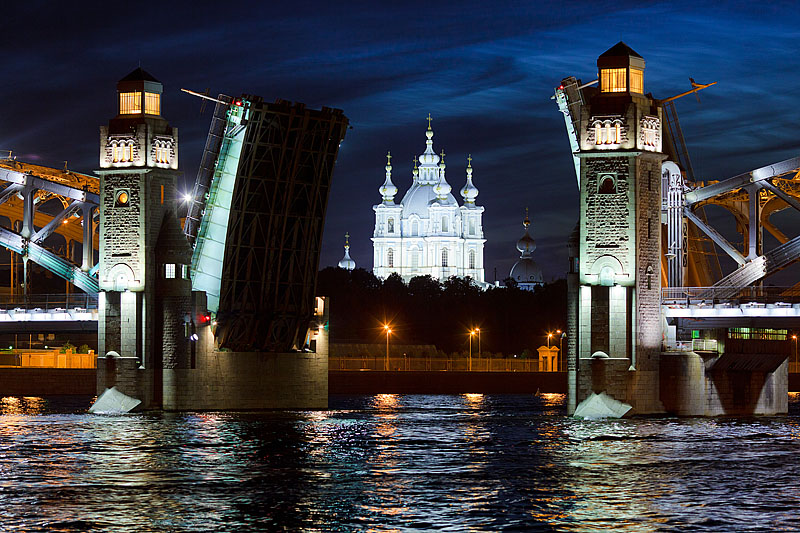 Smolny Cathedral and the Bolsheokhtinsky Bridge
In 1972, the cathedral's iconostasis was taken out. Soon after, the cathedral became a museum for the city, and hosted exhibitions. It was later converted into a concert hall, which is still one of its primary functions today.
| | |
| --- | --- |
| Address: | 3/1, Ploshchad Rastrelli |
| Metro: | Chernyshevskaya |
| Open: | Daily 11 am to 7 pm. Last admission is at 6 pm. |
| Closed: | Wednesday |
| Telephone: | +7 (812) 271-7632, +7 (812) 710-3159 |
| Website: | http://eng.cathedral.ru/smolnii_sobor/ |
| Admission: | Exhibition hall: RUB 150.00. Bell tower: RUB 100.00. Joint ticket: RUB 200.00. Panorama of St Petersburg audio tour: RUB 100.00 |
| Photo and video: | free/included |
| Accessibility note: | The museum is wheelchair accessible: there are wheelchair lifts at entrance and exit. Please contact administrator for assistance. |