Stroganov Palace
One of the oldest and finest of the aristocratic residences in St. Petersburg, the Stroganov Palace has a prominent location on the corner of Nevsky Prospekt and the Moika River Embankment, and now houses part of the collections of the
State Russian Museum
.
The Stroganov family had been prominent merchants since the 15th century, but rose to the ranks of the aristocracy only in the reign of Peter the Great, when the family was ennobled in thanks for considerable financial assistance to the Tsar's armies in the Great Northern War. The family was brought to national prominence by Baron Sergey Griogoryevich Stroganov in the reign of Empress Elizabeth, and by his son Count Alexander Sergeevich Stroganov, who was a leading St. Petersburg administrator and ended his life as President of the Academy of Arts and Director of the Imperial Public Library. It was the former who commissioned the building of the Stroganov Palace from Francesco Bartolomeo Rastrelli in 1752. The exteriors that he created were completed in 1754, and remain intact to this day, one of the most prominent masterpieces of late Baroque in St. Petersburg.
The most impressive interiors of the palace, however, are those created by Andrey Voronikhin, architect of the Kazan Cathedral, who was employed by Count Alexander Sergeevich in the 1790s and 1800s to remodel the interior decor in the neoclassical style (recent scholarship has contested that much of this work was done by Fyodor Demertsov). Many of these have now been restored and opened to the public as the State Rooms in the eastern enfilade of the building, among them the remarkably ornate Mineral Study, which housed Count Alexander's library and collection of precious stones and minerals, and the Picture Gallery, which was once home to his impressive art collection, including works by Rembrandt and Poussin. Restoration is ongoing in other parts of the palace.
The Stroganov Palace was nationalized in 1918, and originally operated as a Museum of Aristocratic Life. This, however, was closed in 1929, and the exhibits were handed over to the Hermitage. Other artifacts from the palace were passed to other Soviet museums or sold abroad. From then on the palace served as offices for various Soviet enterprises, including a botanical institute and as a ship-building research facility.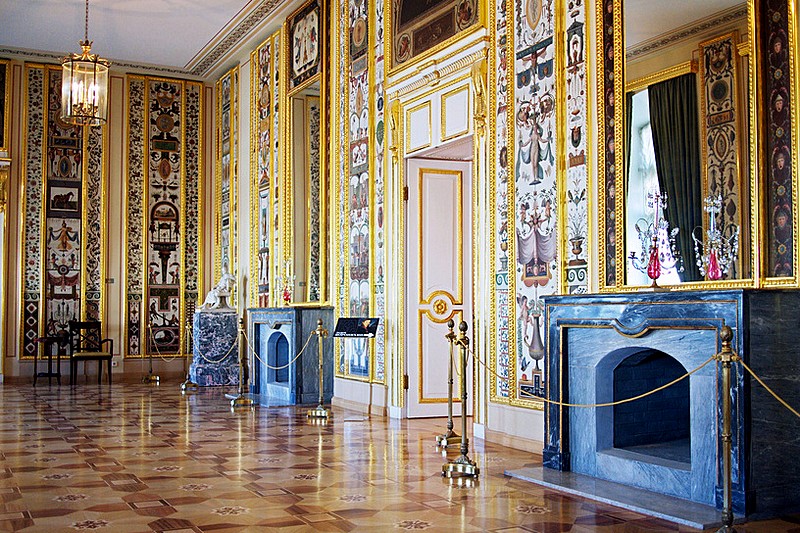 Interiors of the Stroganov Palace - home of the Counts Stroganov
The building was passed by the government to the Russian Museum in 1988, and the Stroganov Palace has been the subject of intensive restoration work ever since. External restoration was completed in 2003, while the results of work on the interiors are now gradually being revealed.
| | |
| --- | --- |
| Address: | 17, Nevsky Prospekt |
| Metro: | Nevsky Prospekt, Admiralteyskaya |