Train Stations
If you are arriving in St. Petersburg by train, there are four rail stations in the city serving inter-city or international routes. If you wish to use public transport to get to your final destination, all stations are connected to St. Petersburg's easily navigable metro, while if you prefer to travel by car, we recommend booking a transfer or taxi in advance, rather than trying to haggle with the private cab drivers waiting at the station.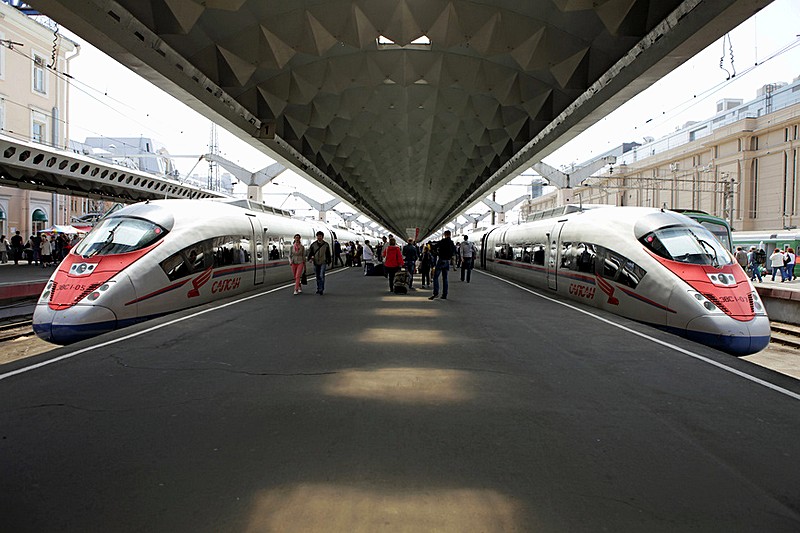 'Sapsan' from Moscow in St. Petersburg
Moscow Station (Moskovsky Vokzal)
St. Petersburg's oldest and busiest rail station, Moscow Station is located in the very centre of the city on Ploshchad Vosstaniya, at the junction between Nevsky Prospekt and Ligovsky Prospekt. The station is served by two metro stations, Ploshchad Vosstaniya on the red line and Mayakovskaya on the green line. It is a short walk from the station to several hotels, including the Hotel Oktiabrsakaya, the Ibis St. Petersburg Centre, the Corinthia Hotel St. Petersburg, and the Nevsky Express Hotel. Read more about Moscow Station here.
Vitebsk Station (Vitebsky Vokzal)
The St. Petersburg terminal for trains to/from Belarus, Ukraine, Moldova, and the Baltic States, Vitebsk Station is a beautiful historic building located in the southern centre of the city, just under 2km from Nevsky Prospekt. There are two metro stations connected to the mainline concourse, Pushkinskaya on the red line and Zvenigorodskaya on the purple line. Hotels within walking distance of the station include the Fifth Corner Hotel, the Asteria Hotel, the Brothers Karamazov Hotel, and the Neptun Hotel. To find out more about the history of Vitebsk Station, click here.
Finland Station (Finlyandskiy Vokzal)
Famous as the site of Lenin's arrival on his return to St. Petersburg in 1917, Finland Station has gained a new lease of life as the terminal for the new Allegro express trains to Helsinki. The station is on the north bank of the Neva River, about 2km north of Nevsky Prospekt. The station is served by Ploshchad Lenina Metro Station (on the red line, two stops north of Ploshchad Vosstaniya). The only hotel within walking distance is the Saint Petersburg Hotel.
Ladoga Station (Ladozhskiy Vokzal)
St. Petersburg's newest railway station, Ladoga Station is a sprawling modern building to the east of the downtown area, about 2km across the Neva River from the eastern end of Nevsky Prospekt. Ladozhskaya Metro Station, connected to the mainline concourse, is on the orange metro line, four stops from Dostoevskaya in the very centre of the city. About 1km from the station, the Ladoga Hotel is the only hotel within walking distance.