Vitebsk Rail Station (Vitebskiy Vokzal)
Built on the site of the first railway station in Russia, Vitebsk Station is a magnificent Art Nouveau building that has survived virtually unaltered since it was opened in 1904.
Russia's first railroad, running between St. Petersburg and Tsarskoye Selo (now Pushkin), was laid in the 1830s under the supervision of Franz Anton Ritter von Gerstner, a professor at the Vienna University of Technology. Originally, the station in St. Petersburg was supposed to be located next to the Fontanka River, but due to budget overruns the decision was taken to build a temporary wooden station on Semyonovskiy Platz (now Pionerskaya Ploshchad). The first steam engine, called Provorny ("Nimble"), left St. Petersburg on 30 October 1837, driven by von Gerstner himself. It took 35 minutes to reach Tsarskoye Selo.
Soon the wooden station was replaced with a two-storey stone building designed by Konstantin Ton. However, by the end of the 19th century, it proved inadequate for the increasingly heavy flow of passengers. Eventually, in 1902, Stanislav Brzhozovskiy (who had recently completed the Riga Station in Moscow) was commissioned to design a completely new building. He produced a masterpiece of Art Nouveau (or Style Moderne) architecture. The vast main hall is over 20 meters high and decorated with panels showing the history of the Tsarskoye Selo Railway and its stations. The main staircase is has marble banisters with bronze inlays, and the station also has a picture gallery with typically Art Nouveau plant decorations. The platform roof, meanwhile, is as impressive for its engineering ingenuity as its aesthetic qualities, and is the largest example of "iron architecture" in St. Petersburg.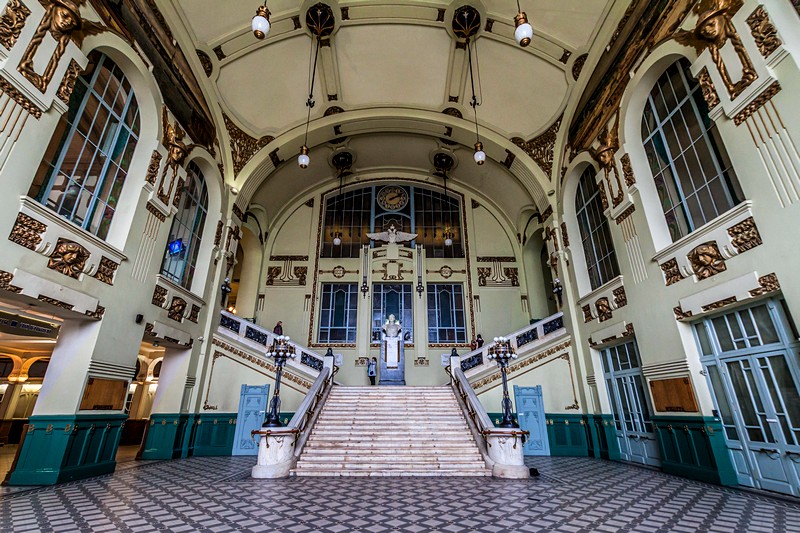 Interiors of Vitebsk Railway Station
Next to the main station, Brzhozovskiy also built the Imperial Pavilion, designed as a private waiting room for Nicholas II and his family. In 1987, to mark the 150th anniversary of the first journey, a model of Provorny was placed in its own glass pavilion next to the platforms. In 2003, the station was fully renovated, and in 2007 a bust of von Gerstner was placed in the station concourse.