Moscow Rail Station (Moskovsky Vokzal)
Standing at one end of Russia's busiest railway line, Moscow Rail Station was once the most important station in the Russian Empire, and is still the arrival point for hundreds of visitors every day from Moscow, Central, Southern and Eastern Russia.
Like its sister, Leningrad Rail Station in Moscow, Moscow Rail Station was built at the same time as Russia's first intercity railway, the Nikolaevskaya (now Oktyabrskaya) Railroad linking St. Petersburg with Moscow. Both stations were designed by the architect Konstantin Ton and Rudolf Zhelyazevich. Their designs resembled European townhalls of the 12th and 13th centuries, with high clocktowers and false arcades on the ground floors.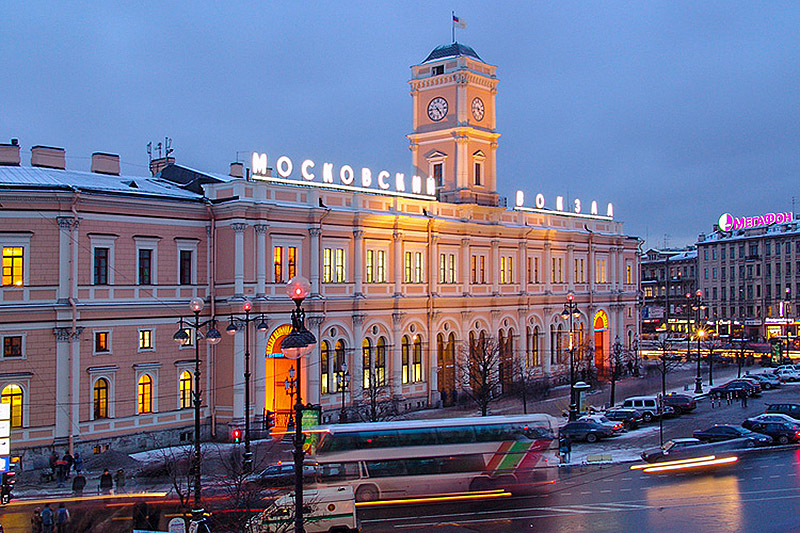 Moscow Railway Station on Ploshchad Vosstaniya
The station was originally called the Nicholas Railway Station (Nikolaevskiy Vokzal), and Emperor Nicholas I was one of the first passengers to pass through it on his way to Moscow with his family. For the first few years, the journey was a difficult one to make. Not only were train tickets expensive, but to buy them each passenger had to present a special request to the police, along with their passport, which was only returned when the passenger returned to St. Petersburg.
Despite this, the number of passengers soon meant that the building needed to be extended. However, the first expansion in 1868 also proved inadequate, and in 1912 Vladimir Shchuko won the competition to design a completely new station. As Znamenskaya Ploshchad (now Ploshchad Vosstaniya) had by that time been fully built up, the only way to extend the building was down the tracks. Only the first wing of Shchuko's new building (now ticket offices) had been completed when the project was abandoned due to the outbreak of the First World War, saving Ton and Zhelyazevich's original structure.
During the 1960s, the modern main hall was added to the station, with a bust of Vladimir Lenin in the centre (this was replaced in the 1990s with a bust of Peter the Great). Today, Moscow Station remains one of the busiest in Russia, and the long-proposed high-speed rail line between Russia's two main cities means that it will almost certainly see further reconstruction and expansion soon.
| | |
| --- | --- |
| Address: | 2, Ploshchad Vosstaniya / 85, Nevsky Prospekt |
| Metro: | Ploshchad Vosstaniya / Mayakovskaya |
| Getting there: | Check the signs on the platform for which exit you need from the metro (in the centre of the platform at Mayakovskaya), and you will emerge in the western wing of the station. |
| Website: | http://www.moskovsky-vokzal.ru |
| What's nearby? | Ligovsky Prospekt, Hero City Obelisk, Hotel Oktyabrskaya |