Hero City Obelisk
The title "Hero City" was granted to the twelve cities of the Soviet Union that bore the brunt of the Nazi invasion during the Great Patriotic War (Second World War). St. Petersburg, then Leningrad, suffered as much as, if not more than, any other, withholding the appalling deprivations of the 900-day siege.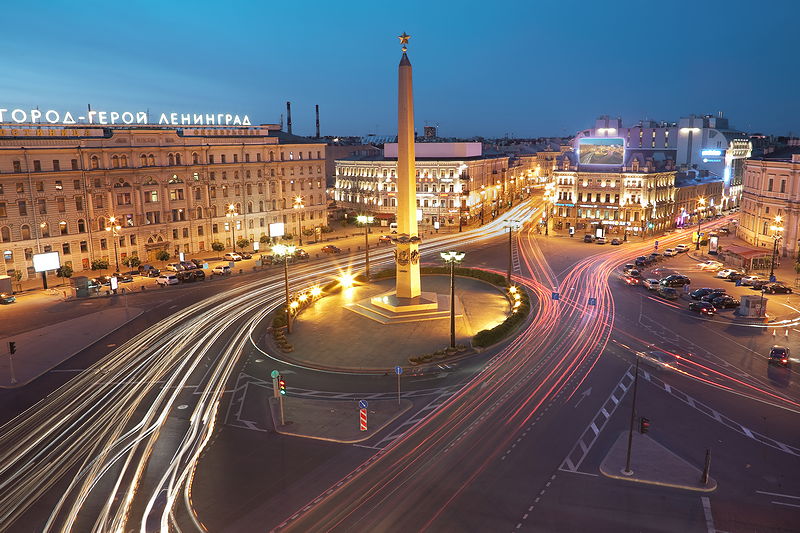 Leningrad - Hero-City Obelisk on Ploshchad Vosstaniya
Among the many memorials to the heroism of the Soviet forces and the citizens of Leningrad, this towering obelisk on Ploshchad Vosstaniya, in front of the Moscow Railway Station, is probably the most visible. The site was originally occupied by an equestrian statue of Emperor Alexander III, erected in 1909. Removed in 1937, it now stands in the courtyard of the Marble Palace. For many decades, the centre of Ploshchad Vosstaniya stood empty until 1985, when this 36-meter grey granite column was unveiled on 8 May (on the eve of Victory Day celebrations).
Crowned with a bronze star, the column is itself star-shaped in cross-section, the first of its kind in the world. A bronze victory wreath encircles the lower part of the column beneath which oval haut-reliefs engraved with stirring patriotic slogans.
| | |
| --- | --- |
| Metro: | Ploshchad Vosstaniya |
| Getting there: | Exit the metro via Moscow Railway Station, the obelisk is directly in front of you. |
| What's nearby? | Moscow Railway Station, Nevsky Prospekt |
Dining near the Hero City Obelisk
RESTAURANTS:
Editors' picks