House of Soviets
The House of Soviets is the finest example in St. Petersburg of the grandiose monumental architecture of the Stalinist era, and was once the focal point of ambitious plans to relocate the centre of the city south, away from the threat of regular flooding, and from the inescapable symbolic remnants of Tsarist power.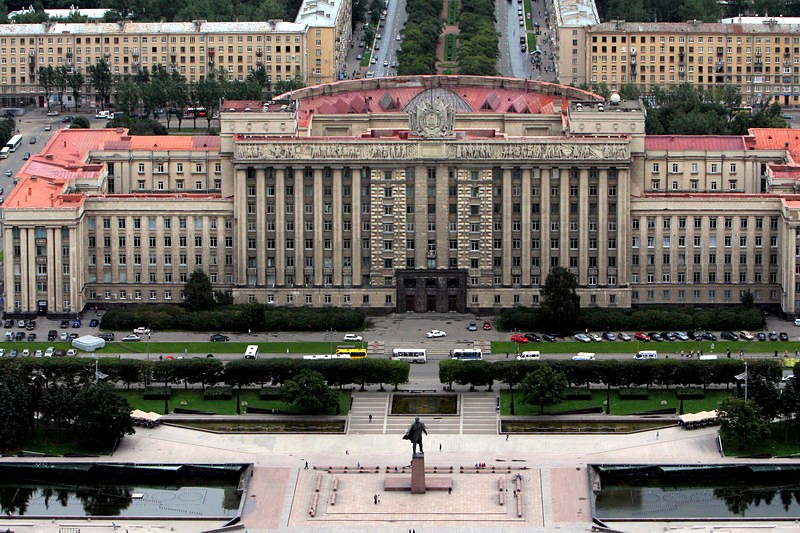 Western facade of the House of Soviets in St Petersburg as seen from Leninskiy Prospek
Intended to house the central offices of the city administration, the House of Soviets was built 1936-1941 by a group of architects led by Noy Trotsky. The monolithic seven-storey central block is flanked by symmetrical five-storey T-shaped wings, and decorated with friezes depicting muscular Soviet workers and Pioneers, crowned with a large Soviet crest.
The building was completed just before the outbreak of the Great Patriotic War, and rapidly assigned as a regional command post for the Soviet Army, remaining close to the front line throughout the Siege of Leningrad. Concrete bunkers from this time can still be seen dotted around the building. After the war, it was occupied by various research institutes, mostly focused on military electronics. Among the many prominent scientists to work there were Alfred Sarant and Joel Barr, members of the Rosenberg spy ring of American communists. Since the collapse of the Soviet Union, parts of the building have been rented out as office space.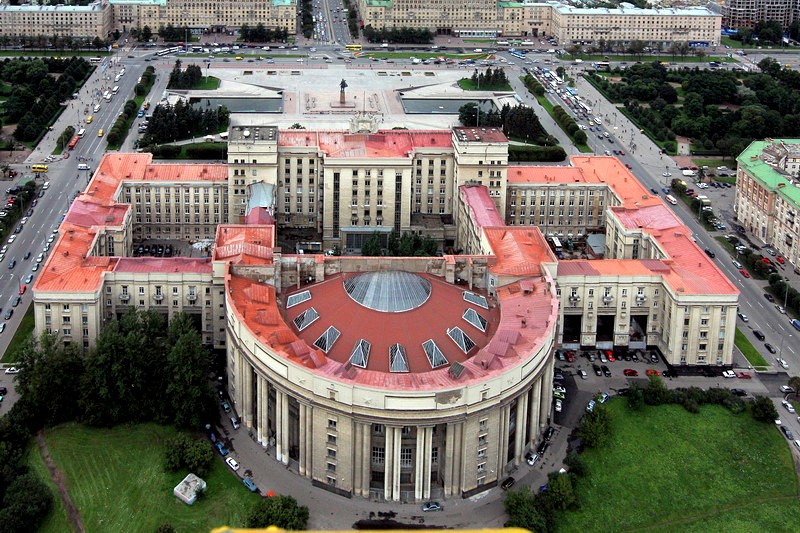 Bird's-eye view of the House of Soviets on Moskovskaya Ploshchad
The enormous statue of Lenin in front of the House of Soviets was designed by Mikhail Anikushin and erected in 1970.
Dining near the House of Soviets
RESTAURANTS:
Editors' picks