Alexander Garden
The Alexander Garden is located in the very center of St. Petersburg, next to Palace Square and behind the Admiralty. Until 1806, the area was covered by the Admiralty's fortifications, but after these were removed it became Admiralty Square. At the beginning of the 19th century an avenue was laid out along the front of the main Admiralty, and very quickly became a fashionable place for the Petersburg aristocracy to promenade and swap the latest gossip from high society. The avenue even made it into Russian literature, when the country's favorite poet, Alexander Pushkin, mentioned it in is immortal novel-in-verse Evgeny Onegin.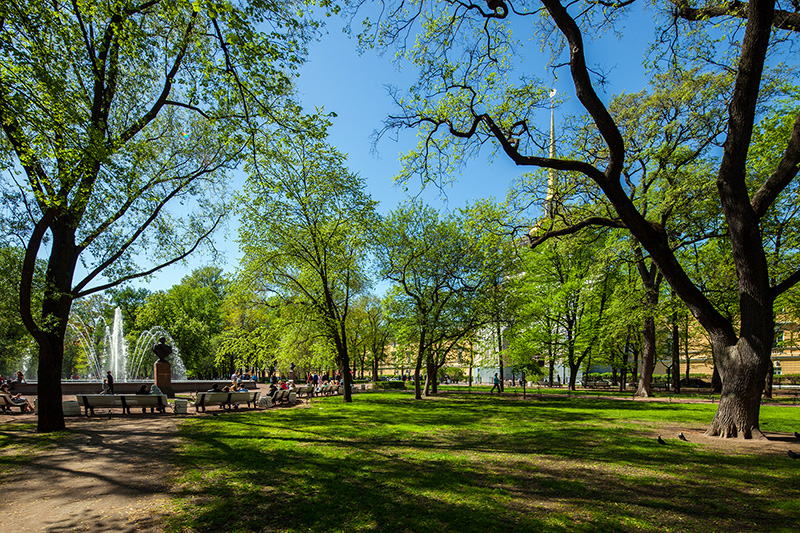 Summer in Alexandrovsky Garden
The Alexander Garden was laid out in 1872-1874 over what had been Admiralty Square, to a design by the landscape gardener Eduard Regel, as part of the celebrations of the 200th anniversary of the birth of Peter the Great. The Garden was formally opened in 1874 in the presence of Alexander II, who agreed to having the Garden named after him. A fountain was installed in 1880 by a team led by Alexander Geschwend - it is known as the musical or dancing fountain because of the way it reacts to any music being played in the Garden. At the end of the 19th century, statues of great Russian cultural figures - the poets Vasily Zhukovsky and Mikhail Lermontov, the writer Nikolai Gogol, the composer Mikhail Glinka and the traveler Nikolai Przhevalsky - were installed.
The Alexander Garden was restored to its former glories at the beginning of the 1920s. During the Siege of Leningrad in the Second World War, not one tree in the Garden was cut down, although the city's inhabitants were in desperate need of firewood. The Garden was severely damaged by air-raids and shelling, but was again restored and opened to the public immediately the Siege was lifted.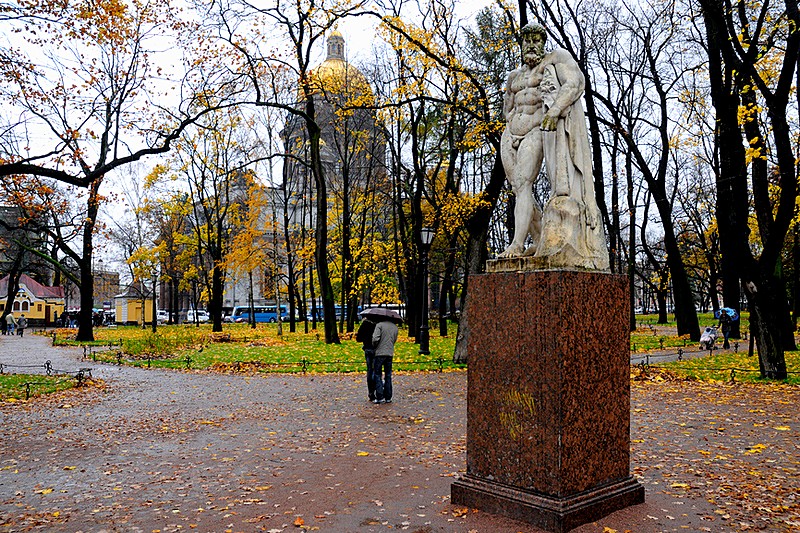 Autumn in Alexandrovsky Garden
How to Get There:
The Alexander Garden is located behind the Admiralty, at the top of Nevsky Prospekt. It's a pleasant 10-minute walk up Nevsky toward Palace Square from Nevsky Prospekt metro station.
Timeline:
| | | |
| --- | --- | --- |
| Beginning of the 19th century | - | Avenue laid out along the front of the Admiralty. |
| 1833 | - | Statues installed on the avenue. |
| 1872 | - | Alexander Garden laid out on Admiralty Square. |
| 1876 - 1880 | - | Fountain put in in the center of the garden. |
| 1887 | - | Statue of Zhukovsky unveiled. |
| 1892 | - | Statue of Przhevalsky unveiled. |
| 1896 | - | Statues of Gogol and Lermontov unveiled. |
| 1899 | - | Statue of Glinka opened. |
| 1918 - 1989 | - | Garden renamed as the Maxim Gorky Workers' Garden. |
Myths and Legends
Unlikely though it may sound, many people have pointed to similarities between the sculpture of Nikolai Przhevalsky and Stalin - and some have even suggested that Przhevalsky was Stalin's father. Some older people, true believers in Communism, to this day bring flowers to Przhevalsky's statue, as they are convinced that it is a bronze representation of Stalin.
Dining near the Alexander Garden
RESTAURANTS:
Editors' picks