Polovtsov Mansion on Kamenniy Island
The mansion of Alexander Polovtsov the younger on Kamenny Island is one of the finest examples in St. Petersburg of the Russian neoclassical revival of the early 20th century. This majestic, strictly symmetrical building was constructed 1911-1913 by the architect Ivan Fomin. Given the site of the mansion, at the western tip of the island, Fomin was faced with the formidable task of creating a building worthy to match the Kamennoostrovsky Palace at the eastern end of the island and capable of blending harmoniously with two outstanding pieces of earlier neoclassical architecture, the Yelagin Palace and the Kamennoostrovsky Theatre, which can be seen together with the mansion in a panorama from the waters of the Srednaya Neva River. Fomin was also charged with retaining part of the previous building on the site, the wooden dacha of Baron Ludwig von Stieglitz, Polovtsov's father-in-law.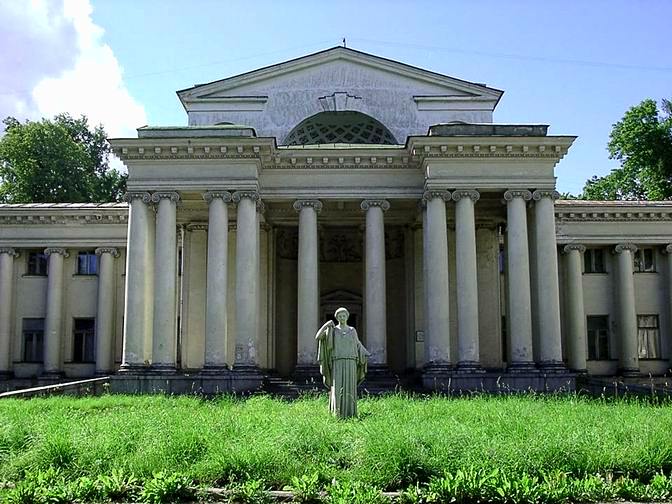 Polovtsov Mansion on Kamenniy Island
Fomin proved more than equal to this complicated task. The two-storey mansion with its broad formal courtyard on a low basement was modeled on the large Western European villas of early neoclassicism.
The central block of the building is decorated with a magnificent porch; the rows of severe ionic columns mounted with porticos lead out to perpendicular wings, giving the building a grand formal appearance. Inside, the reception rooms on the ground floor form an enfilade that, in traditional fashion, begins with a round entrance hall and ends in a winter garden. Particularly fine are the Tapestry and White Column Halls, the Pink Drawing Room, and the library. Much of the furniture still standing in these rooms dates from the late 18th century.
After the October Revolution, the Polovtsov Mansion was turned into a House of Rest for workers. Vladimir Lenin himself attended the opening of this new institution 19 June 1920. Later the building was used as a sanitorium. Today, the mansion, classified as an architectural monument of international significance, is undergoing restoration and is not open to the public.
| | |
| --- | --- |
| Address: | 6, Naberezhnaya Sredney Nevki |
| Metro: | Chernaya Rechka |
| Getting there: | On leaving the metro, turn right and cross the Ushakovsky Bridge onto Kamenniy Island. Then turn left along the embankment and follow the river round until you reach the mansion. (20 minutes) |
| What's nearby? | Bolshaya Nevka River, Srednaya Nevka River, Yelagin Island, Yelagin Palace |
Accommodation near the Polovtsov Mansion on Kamenniy Island
Dining near the Polovtsov Mansion on Kamenniy Island
RESTAURANTS:
Editors' picks