For:

Many top visitor attractions
Fast and easy access to the downtown
Historic region with unique atmosphere

Against:

Opening bridges restrict access in summer
Envisioned by Peter the Great as the centre of his new city, Vasilevsky Island is home to some of St. Petersburg's oldest and most famous buildings, including the main campus of St. Petersburg State University, the Stock Exchange and the Academy of Arts. All these, along with the Kunstkamera Museum, the Menshikov Palace, and a handful of historic churches, are located at the western end of the island, which otherwise comprises a grid of parallel streets (the lines) originally planned as canals. The eastern end of the island is the site of St. Petersburg's Passenger Sea Port and the Lenexpo exhibition and event complex, and is a modern residential area mostly developed in the late Soviet era.
The old part of Vasilevsky Island combines historic charm and proximity to St. Petersburg's top sites and attractions with a distinctively laid-back, bohemian atmosphere. This makes it an attractive option for accommodation, especially for longer stays in the city, although the number of hotels is considerably lower than across the river in the city centre. The main disadvantage of staying on Vasilevsky Island is the opening of the bridges during the navigation season, which isolates the island from the rest of the city during the nights in Summer, a major problem if you're planning to stay out late or have an early morning flight to catch.
Recommended accommodation on Vasilevsky Island:
50, 11th Line Vasilevsky Island, St. Petersburg, 199178, Russia
Show on map
2.56 km
Nearest metro:
Vasileostrovskaya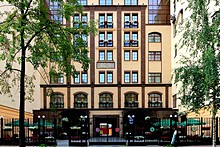 A modern small hotel with individual character and atmosphere in its own purpose-built premises, the NashOTEL is something of a rarity in St. Petersburg. The spacious, colorful accommodation and friendly, efficient staff are very highly rated by travelers, while the location, on a quite side street just over five minutes' walk from Vasileostrovskaya Metro Station, offers a good combination of convenience for downtown sights and attractions, and peace and quiet.
»»»
14, Ulitsa Korablestroiteley, St. Petersburg, 199226, Russia
Show on map
5.65 km
Nearest metro:
Primorskaya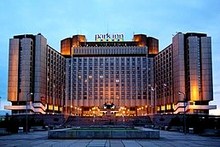 If you have stay in the eastern part of Vasilevsky Island, for fast access to Lenexpo or the Passenger Sea Port, this Soviet-era behemoth is still probably the best place to find reasonably priced accommodation. St. Petersburg's largest hotel, the Park Inn Pribaltiyskaya has 1 200 guest rooms, all of which have been recently renovated to give a bright and contemporary, if rather derivative, feel. Facilities for business and leisure are extensive and good quality.
»»»
26, 3rd Line Vasilevsky Island, St. Petersburg, 199004, Russia
Show on map
1.80 km
Nearest metro:
Vasileostrovskaya
A popular small hotel with elegant, old-world charm, the Shelfort is housed in a beautiful Art Nouveau building on 3-ya Liniya. The Shelfort has only 15 guest rooms and little in the way of on-site amenities, but does offer cozy accommodation at reasonable rates and friendly, helpful service, as well as an excellent location close to Vasileostrovskaya Metro Station and to all the main sights and attractions on Vasilevskiy Island.
»»»
2-4, Birzhevoy Pereulok, Vasilyevsky Island, St. Petersburg, 199004, Russia
Show on map
1.38 km
Nearest metro:
Vasileostrovskaya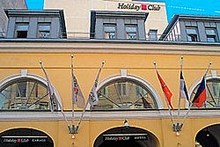 There are two hotels from the Finnish chain Sokos on Vasilevsky Island, both offering stylish modern accommodation and a full complement of business and leisure services. The larger and more prestigious of the two, the Sokos Palace Bridge is situated in a historic building around ten minutes' walk from Palace Bridge, offering stylish modern accommodation and excellent Spa and fitness facilities. Popular with tour groups.
»»»
11-13, 8-ya Liniya VO, St. Petersburg, 190034, Russia
Show on map
1.87 km
Nearest metro:
Vasileostrovskaya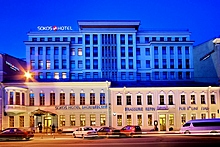 While the location is a little too far east to be ideal for sightseeing (but, on the other hand, far enough to be relatively convenient for Lenexpo and the Passenger Sea Port), and the "conversion" of two historic buildings to create the hotel was a fairly egregious act of cultural vandalism, the Solo Sokos Vasilievsky is nonetheless one of the most popular accommodation options on Vasilevskiy Island, with good facilities and a cozy, welcoming atmosphere not typical of a chain hotel.
»»»
10, 5-ya Liniya VO, St. Petersburg, 199004, Russia
Show on map
1.63 km
Nearest metro:
Vasileostrovskaya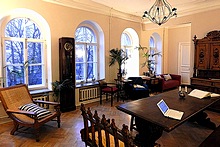 This beautifully decorated guesthouse has a great location overlooking the garden of the Academy of Arts and close to the baroque St. Andrew's Cathedral. Comprising four rooms, two of which are two-room suites and all of which have their own bathrooms, and a spacious and well-equipped communal kitchen. While the owners, a Russian-British couple, are not in residence at the guesthouse, they are readily available by phone or email to provide assistance.