Old Stock Exchange
Chosen to represent St. Petersburg on the 50-ruble bank note, this elegant neoclassical building faces the Neva River from the eastern tip of Vasilyevsky Island like an ancient Greek temple and, with the two Rostral Columns flanking it, forms one of the most celebrated vistas in the city.
The original St. Petersburg Stock Exchange, built in the 1730s, was wooden. Work began in 1783 on a new stone building by renowned architect Giacomo Quarenghi, but his oval design proved unpopular and in 1804, soon after the building was finished, it was demolished to make way for the present building, designed by Frenchman Thomas de Thomon, who is said to have modeled his designs on the Temple of Hera at Paestum.
The building was completed in 1810, although the official opening of the Exchange was not until 1816. De Thomon's facades feature 44 Doric columns on a high red granite stylobate, and above the main portico is a statue of "Neptune with two rivers - the Neva and the Volkhov". De Thomon went on to design the surroundings of the building, including the Rostral Columns (gas-fired navigational beacons), the square in front of the Stock Exchange, and the embankment. Thus the building became the focal point of the Strelka (or "spit") of Vasilevskiy Island - a vital location because it was right in front of the windows of the Winter Palace.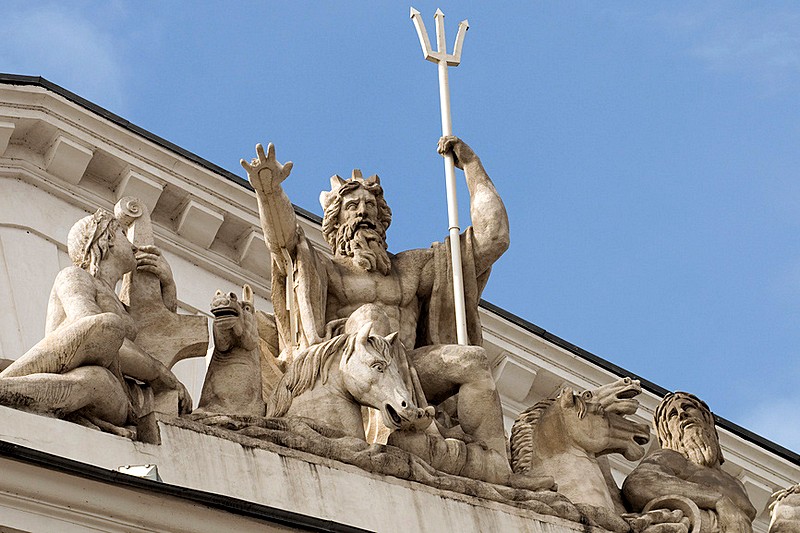 Sculpture of Neptune on the Stock Exchange Building
When the Bolsheviks seized power, the Stock Exchange Building became a sailor's club, then the Chamber of Commerce of the North-West Region, a labour exchange, the Soviet for the Study of Manufacturing Capability in the USSR and several other institutions before being transferred to the Central Naval Museum in 1940. At present, the building is in the process of being transferred back to its original purpose, and will soon be the new home of the St. Petersburg International Commodities Exchange.
| | |
| --- | --- |
| Address: | 4, Birzhevaya Ploshchad |
| Metro: | Admiralteyskaya |
| Getting there: | From Admiralteyskaya, walk west along Nevsky Prospekt, pass between the Admiralty and the Winter Palace, cross Palace Bridge, and you are already on the spit of Vasilevskiy Island (15 minutes). You can follow the same route on bus 24 and 191, and trolleybuses 10 or 11, from Malaya Morskaya Ulitsa to Universitetskaya Naberezhnaya. |
| What's nearby? | Rostral Columns, Strelka (spit) of Vasilyevsky Island, Universitetskaya Naberezhnaya (University Embankment), Kunstkammer |