The Twelve Colleges (St. Petersburg State University)
The largest structure in St. Petersburg surviving from the Petrine era, the Twelve Colleges were at the centre of Peter the Great's fundamental reforms of the Russian state in the 18th century. In the 19th century, as the main campus of St. Petersburg University, the building became the site of historic research and discoveries by Russian academics including Dmitry Mendeleev, Alexander Popov, and Ivan Pavlov.
The building, which is over 400 meters long, was commissioned by Peter in 1718 to house the new structures of government - the Senate, the Synod of the Russian Orthodox Church, and the nine Colleges or Collegia, which served the function of modern ministries. The original architect of the project was Domenico Trezzini, who had also designed the Peter and Paul Fortress, and building began 1722. It took 20 years to complete the building, during which time construction was supervised by Theodor Schwertfeger, Mikhail Zemtsov, and Domenico Trezzini's nephew (and son-in-law) Giuseppe Trezzini.
Originally twelve separate buildings, with trading premises on the first floors and the offices of government above, the structure was unusual for St. Petersburg in that its main facade faced away from the Neva River, forming one side of what Peter the Great planned to be the central square of his new city. As the 18th century progressed and the centre of the city gradually became established on the left bank of the river, with no permanent bridge connecting to Vasilevskiy Island, the site of the Twelve Colleges became increasingly inconvenient, part of the reason why the higher departments of government began to seek new premises on the opposite bank.
In 1804, part of the Twelve Colleges was assigned to the Pedagogical Institute, the precursor of St. Petersburg University, which was officially founded in 1819. At that time, the building was significantly altered to suit its new role. Of the original interiors, only the sculptures, frieze, ceiling murals and fireplaces in the Petrovsky Hall have survived. Of note from the early 19th century reconstruction are the grand staircase and the magnificent Assembly Hall.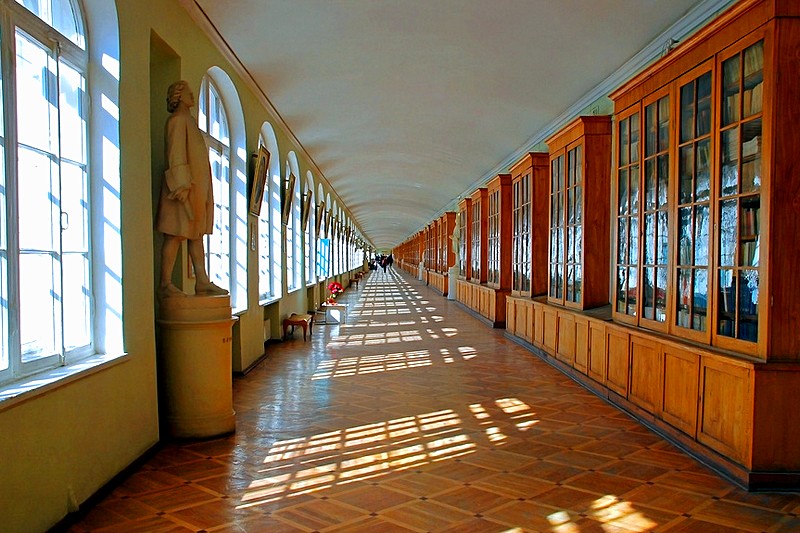 Famous long corridor of St. Petersburg State University
To this day, the Twelve Colleges house the university's administrative offices, as well as the Faculties of Geology and Earth Sciences. Widely considered the second best university in Russia after Moscow State, St. Petersburg State counts amongst its alumni eight Nobel Prize winners, including Ivan Pavlov and the poet Joseph Brodsky, as well as both Dmitry Medvedev and Vladimir Putin, and the Russian-American novelist and philosopher Ayn Rand.
Visitors have access to some of the public halls of the Twelve Colleges, which also regularly host concerts, and the building also houses two museums - the Museum of the History of St. Petersburg University and the Dmitry Mendeleev Apartment Museum.
Address:
7/9, Universitetskaya Naberezhnaya (2, Mendeleevskaya Liniya)
Metro:
Admiralteyskaya
Getting there:
From Vasileostrovskaya Metro Station, turn right then right again down 6-ya Liniya, walk around 600m to the Neva River and turn left. The Twelve Colleges is a further 5-10 minutes' walk along the embankment.
From Admiralteyskaya Metro Station (or anywhere on Nevsky Prospekt), take a westbound bus (7, 191) or trolleybus (1, 10 or 11). The stop for the Twelve Colleges is the first after you cross the Neva River.
What's nearby?
Universitetskaya Naberezhnaya (University Embankment), Neva River, Menshikov Palace, Strelka (Spit) of Vasilyevsky Island, Academy of Sciences, Kunstkammer