For:

Very central
Wide variety of accommodation
Good value

Against:

Noise and dirt in some areas
Sennaya Ploshchad ("Hay Square"), the heart of the area to the south of Nevsky Prospekt between the Moyka and Fontanka Rivers, was established in 1737 as the site of St. Petersburg's hay and cattle market, and should be a familiar name to readers of Crime and Punishment as the site where Raskolnikov broke down and confessed his crimes. In fact, nearly all the action in Dostoevsky's great novel takes place within a few blocks' radius of the square and, while the squalor and destitution he portrayed is a thing of the part (mostly), the area is still bustling with trade and just a little seedy. It also has some of St. Petersburg's most active nightlife, with scores of little bars on the side streets off Ulitsa Sadovaya. The neighborhood to the west of the Griboedov Canal, meanwhile is a little more peaceful and genteel.
For visitors, the main advantage of the area is proximity to St. Petersburg's main sights and attractions – St. Isaac's Cathedral, Nevsky Prospekt and the Mariinsky Theatre are all within a ten-minute radius on foot from Sennaya Ploshchad. Meanwhile, in the area to the east of the Griboedov Canal, which is rather more peaceful than the immediate vicinity of Sennaya Ploshchad, there are several good-value accommodation options.
Recommended accommodation:
5-7, Prospekt Rimskogo-Korsakova, St. Petersburg, 190068, Russia
Show on map
1.64 km
Nearest metro:
Sadovaya, Sennaya Ploshchad, Spasskaya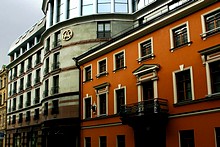 The Ambassador is a well-established 4-star hotel often used by visiting musicians, theatre companies, and even the odd film star. Elegantly fitted, and providing a full range of business and leisure facilities including fitness centre with a reasonably sized pool and extensive meeting venues. While some guest rooms would benefit from a refit, the Ambassador otherwise feels very professionally managed. It's also only a short walk from the Mariinsky Theatre.
»»»
5, Kazanskaya Ulitsa, St. Petersburg, 191186, Russia
Show on map
702 m
Nearest metro:
Gostiny Dvor, Nevsky prospekt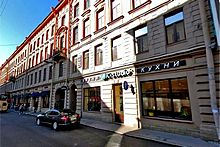 This popular small hotel just behind the Kazan Cathedral has a superb location for sightseeing, and also offers very cozy accommodation with a touch of extra class thanks to a fair amount of antique furniture and artworks by local artists and photographers on the walls. While some minor details (like WiFi coverage in some rooms and the lack of elevator) are less than perfect, they are made up for by friendly service and the hotel's distinct character.
»»»
41, Kazanskaya Ulitsa, St. Petersburg, 190000, Russia
Show on map
1.20 km
Nearest metro:
Sadovaya, Sennaya Ploshchad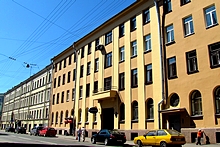 A tiny hotel on Ulitsa Kazanskaya, around five minutes' walk from St. Isaac's Square, the Columb Hotel has only six guest rooms that are simply but tastefully decorated, and all have air-conditioning. There is little in the way of extra services and amenities, and not all staff speak English, but the Columb's combination of excellent location for sightseeing, warm welcome, and very good value accommodation have made the hotel very popular.
»»»
22/2, Ulitsa Sadovaya, St. Petersburg, 191023, Russia
Show on map
1.21 km
Nearest metro:
Gostiny Dvor / Nevsky Prospekt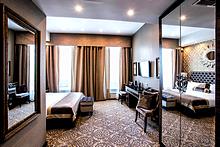 While this recently opened 4-star hotel might be overdoing it slightly with the name, and the elaborate interiors (lots of marble and brocade) are more kitsch than majestic, the accommodation is still very comfortable, very well equipped (some rooms even have Jacuzz and infrared sauna), and more likely to make you smile than vomit. The historic pub and restaurant downstairs has beautiful interiors and is worth visiting for a beer.
22/2, Ulitsa Sadovaya, St. Petersburg, 191023, Russia
Show on map
1.23 km
Nearest metro:
Gostiny Dvor / Nevsky Prospekt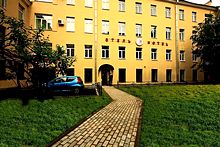 Located just off Nevsky Prospekt and only 100 meters from the Alexandrinsky Theatre, the M-Hotel is one of the very best low-cost options in St. Petersburg's tourist centre. With nearly all St. Petersburg's top visitor attractions within comfortable walking distance, the hotel offers basic but clean standard accommodation and little else, but the combination of relatively low rates and exceptional location have made the hotel one of the most popular in the city.
55, Naberezhnaya Reki Fontanki, St. Petersburg, 191011, Russia
Show on map
1.56 km
Nearest metro:
Gostiny Dvor, Sennaya Ploshchad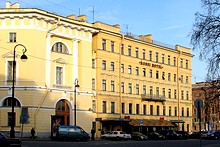 Located by the Fontanka River by the beautiful Lomonosov Bridge and a few steps from the Alexandrinsky Theatre, this stylish superior hotel offers elegant and well equipped guest rooms that combine modern design elements with bare beams and brickwork. While some rooms are on the small side, the hotel's suites are particularly impressive, with beautiful listed historic interiors. There is also a small Spa and fitness facility, and attractive meeting venues.
»»»