When to come and what to bring
The first factor most travellers consider when planning a trip to St. Petersburg is, of course, the weather. St. Petersburg's climate gets a pretty bad press, not least in the works of Russia's literary greats. Those of us who live here and love the city believe that the weather gives it, and us, just that little bit more character. Nonetheless, it pays to come prepared.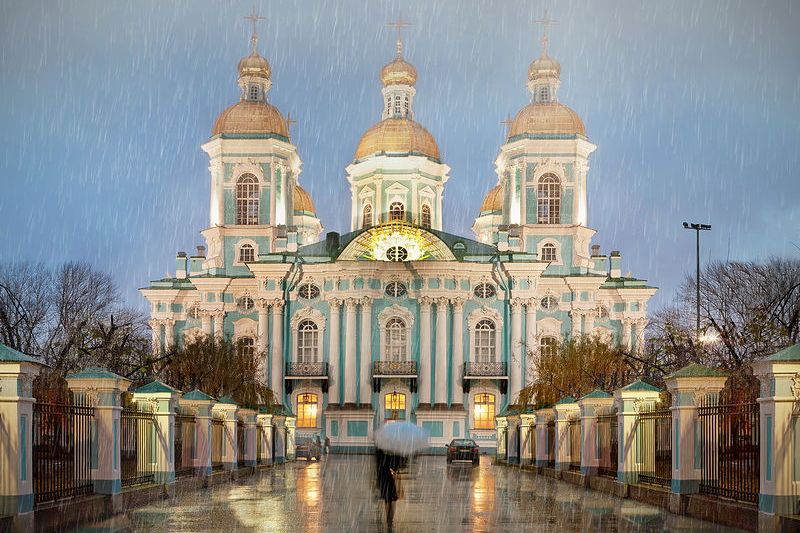 St. Nicholas Maritime Cathedral on a rainy day
The good news is that, as a maritime city, St. Petersburg is never really cold - at least by Russian standards - with temperatures rarely dropping much below -10 ºC even in the depths of winter. And, despite Dostoevsky's descriptions of the sweltering slums, summer temperatures higher than 30 ºC are almost unheard of. It is the year-round high humidity that most visitors, and residents, find hard to bear at times and, winter or summer, waterproof clothing is essential.
It's not just the weather that needs to be taken into account. Depending on the main purpose of your trip, you'll also want to consider the calendars of the city's top attractions - the Mariisnky Theatre, for example, takes two months off in the summer, while the fountains at Peterhof are only open from June to October. St. Petersburg also has an ever increasing number of festivals and holidays spread throughout the year.
Check our seasonal guide below to find out about climate and annual events in St. Petersburg.