St. Petersburg autumn
Autumn is short in St. Petersburg, with weather that anyone but the natives would consider wintry coming in by the middle of October. After the excesses of the summer months, the season sees the city getting back to work and preparing for the long winter ahead. However, September itself is a wonderful time to visit St. Petersburg, with the glorious autumnal colors in the parks and gardens highlighting the city's melancholy beauty. It's also the start of the city's cultural season after the August hiatus and, although there's less excitement than surrounds the big summer festivals, a number of important premiers and openings guaranteed.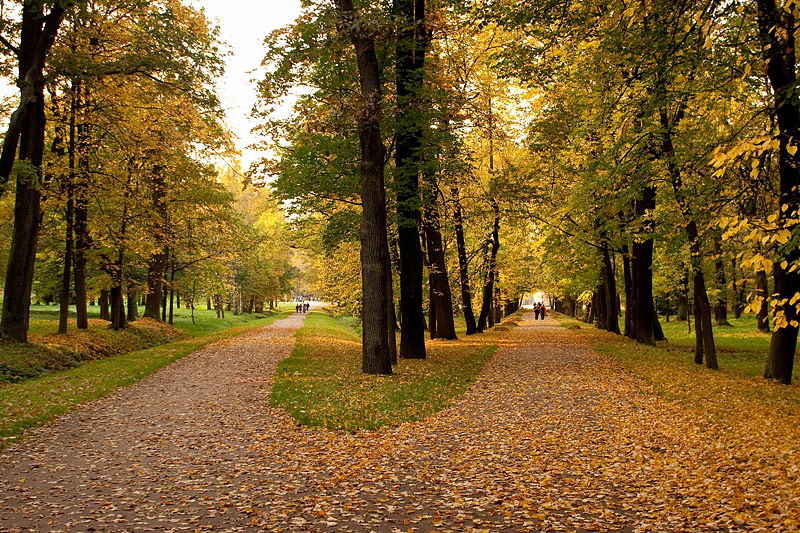 Fall foliage in Peterhof
Outside the city, the imperial palaces and their parks are at their very best, particularly Pavlovsk and Oranienbaum, their extensive landscape gardens decorated colored with every shade of red and brown. There are also fewer tour groups around to spoil their majestic tranquility. The same is true in the city's museums and cathedrals, making this the perfect time to come for committed culture vultures who want to get the most out of St. Petersburg's wealth of historical and artistic treasures.
The weather remains comparatively mild until mid-October, when the temperature begins to dip below freezing. If you're lucky, you'll get the chance to experience babe leto, literally 'granny summer', the Russian equivalent of an Indian summer that brings a week or so of warmth and sunshine at the end of September.
As in the spring time, warm clothing - including scarf, gloves and a woolen overcoat - is recommended, as the weather can be extremely variable. If you're going to take advantage of the excellent conditions to explore the city on foot, you should bring some solid waterproof shoes.