St. Petersburg spring
Spring comes to St. Petersburg at the very end of March, and can be one of the best times of year for sightseeing and culture, before the tourist rush of the summer. The city comes alive fast after the long winter and, despite the residual cold, the inhabitants tend to be in celebratory mood. The sight of the ice from Lake Ladoga flowing down the city's waterways out into the Gulf of Finland is quite spectacular.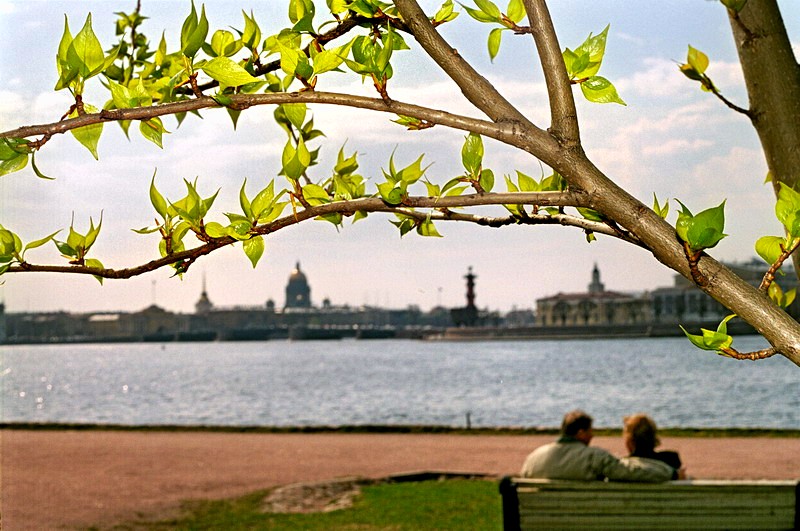 Neva River at spring
Early May is another time for nationwide revelry, with two public holidays - May 1st and Victory Day on May 9th - only a week apart and very little work done in between. If you want to see parades, fireworks and Russian street parties, then this is definitely the time to come.
Easter, although not an official public holiday, is unquestionably the most important date in the Orthodox calendar and, for those interested, the rituals involved are fascinating and very beautiful, with candlelit services running late into the night on Good Friday, and the Resurrection celebrated for a full week afterwards.
On the culture front, the Musical Spring in St. Petersburg festival, which runs for almost a month in late April and May under the auspices of the Composers' Union, is a more eclectic affair than the more famous Stars of the White Nights Festival the month after, but always has plenty treats for music aficionados. The SKIF festival, normally in late April, which draws together an incredibly diverse mixture of dance, electronica, experimental and world music, is not everybody's cup of tea, but always has a uniquely shambolic appeal.
Weather-wise, spring is not the unmitigated delight that the uninitiated might imagine. It can still be very chilly on and off until the middle of May, so you'll need the equivalent of a woolen overcoat, and its worth bringing scarves and gloves just in case - especially if you're planning to spend plenty of time outdoors. Tough shoes or boots are also recommended to cope with the slush and mud and, at this time of year, you'll need an umbrella.