Summer Palace of Peter the Great
The first palace built in Saint Petersburg is not really a palace at all. It is simply a regular two-story stone house in which Peter the Great, the first Russian Emperor, spent the summer months. However, this house is the beginning of the glorious history of Petersburg palaces, which would soon match and even surpass the grandeur of Versailles, Buckingham Palace and other great palaces of the world. Since its construction, the Summer Palace has hardly been altered, and today it gives its visitors a rare opportunity to see life as it was 300 years ago.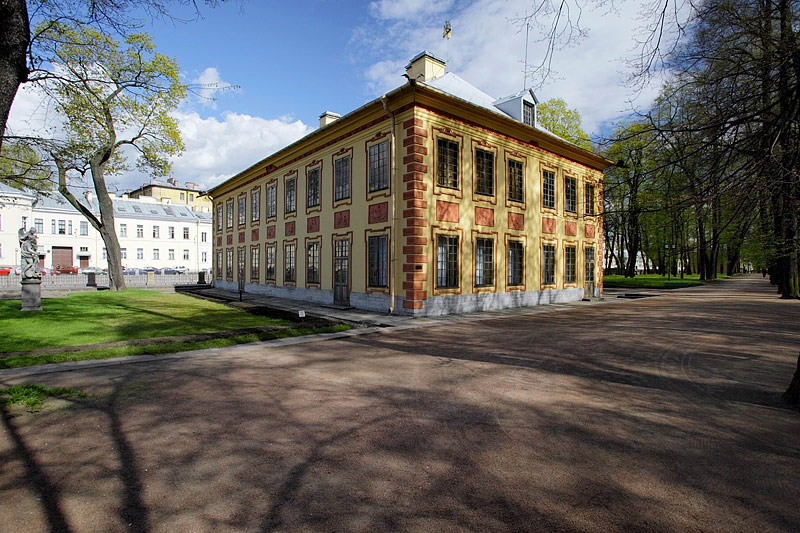 Summer Palace of Peter the Great in the Summer Garden
Before 1703, the estate of the Swedish officer Conan stood here, next to the Neva and Fontanka Rivers. After the founding of Saint Petersburg, Peter I built a wooden house on the site. In 1710, it was decided that a stone house would be more fitting for the Russian Tsar than a wooden one. The building was designed by the Swiss-Italian architect Domenico Trezzini while the sculptural and interior decoration was carried out by the German architect and sculptor Andreas Schluter, including the attractive red bas reliefs that run between the windows all around the building. Behind the palace is the Summer Garden, founded in 1704.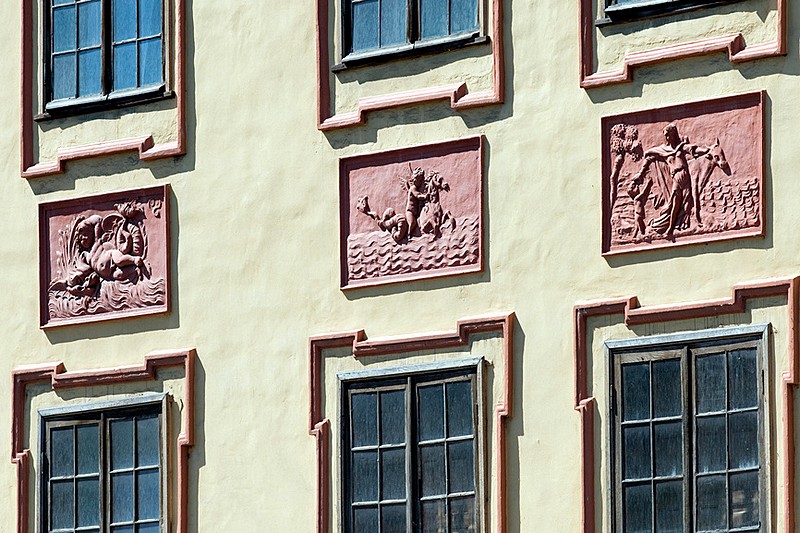 Sculptural decorationations on the Summer Palace of Peter the Great
Peter's quarters were on the first floor of the Summer Palace, and the second floor was for his wife Ekaterina and their children. Each floor consists of seven rooms. The rooms included: reception; the assembly (grand hall); a jail where Peter personally prosecuted, locked up, and released prisoners; and the Russian tsar's favorite room - his workshop. The palace's interiors are well preserved: carved oak panels in the lower lobby with images of Minerva; unique Dutch tiles; fireplaces with stucco decorations; and beautiful lampshades.
The palace was originally surrounded by water on three sides: The Neva to the north, the Fontanka to the east, and the diminutive Gavanets Creek (now drained) to the south. Dinghies approaching the palace on the Neva were anchored to the facades as if they were tying up to a ship. Mooring rings are still visible on the southern and eastern facades. This water-centric arrangement allowed the creation of a running sewer system which was the latest development in technology at the time.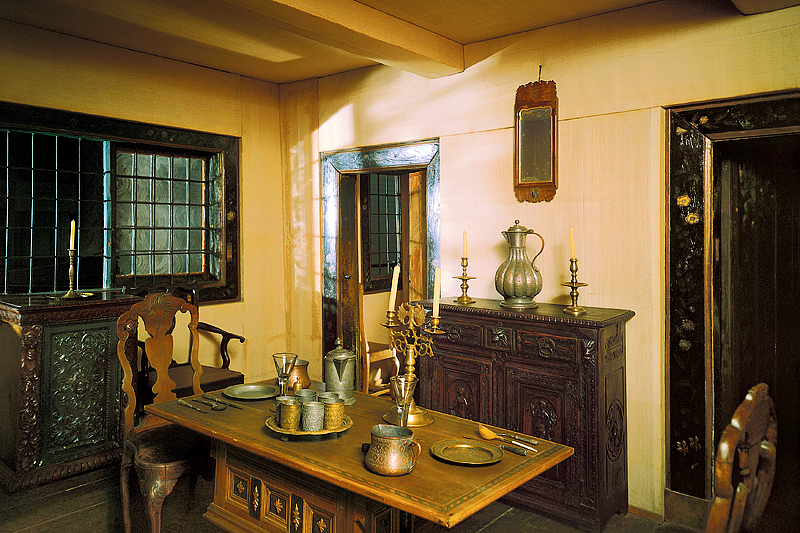 Interiors of the Summer Palace of Peter the Great
After the death of Peter I and Catherine I, the Summer Palace remained untenanted for many years, though once a Supreme Privy Council meeting was held here. Soon after, the palace was turned into a summer resort for the Imperial court. In 1826, the architect Carlo Rossi turned it into the Coffee House. Today the palace has become a branch of the Russian Museum. It showcases the original interiors, many personal belongings of Peter and Catherine, unique devices of the 18th century, rare paintings, and much more.
| | |
| --- | --- |
| Address: | 3, Letny Sad |
| Metro: | Nevsky Prospekt, Gostiny Dvor |
| Directions: | From the corner of Nevsky Prospekt and Sadovaya Ulitsa (across the street from Gostiny Dvor Metro Station or a short walk east from the Mikhailovskaya Ulitsa exit of Nevsky Prospekt Metro Station), walk north along Sadovaya Ulitsa on the right hand side of the road. Walk past the Mikhailovsky (Engineers') Castle, cross the Moyka River and turn right along the Moyka Embankment to reach the main entrance to the Summer Garden. Walk north through the summer garden to the Summer Palace. |
| Opening hours: | From June to October, daily from 10am to 6pm |
| Entrance fee: | 300 rubles (100 rubles for CIS citizens) |
| What's nearby? | Summer Garden (Letny Sad), Neva River, Fontanka River, Palace Embankment, Monument to Ivan Krylov |
Dining near the Summer Palace of Peter the Great
RESTAURANTS:
Editors' picks