Monument to Ivan Krylov in the Summer Garden
Peter Clodt, whose most famous works are probably the magnificent horses on Anichkov Bridge, was also the sculptor of this charming monument to the much loved fabulist, Ivan Krylov.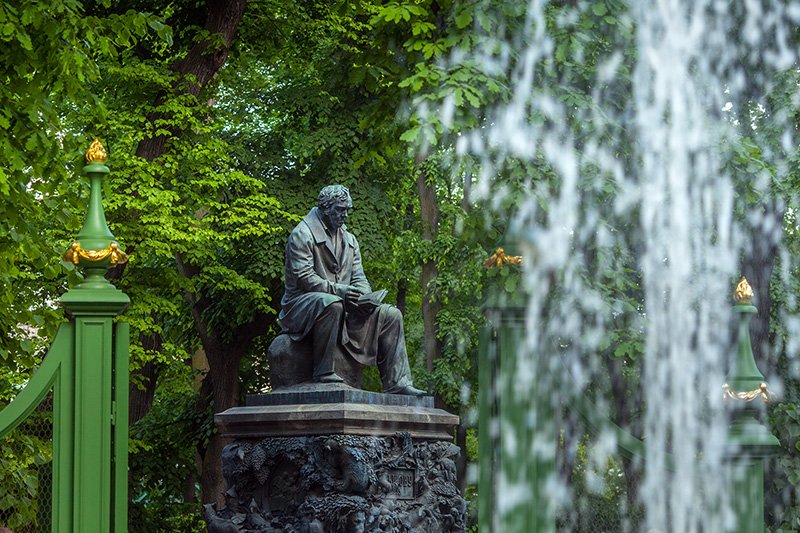 Monument to Ivan Krylov (fabulist) in the Summer Garden
Krylov's popular fables drew heavily on the works of Aesop and Jean de la Fontaine, adapting them to satirize the peculiarities of Russian life, and especially the country's abstruse bureaucracy. As with his precursors, most of his tales had animals as protagonists, and Clodt's monument is most striking for it's pedestal, richly decorated with bronze fauna. The sculptor preferred to work from life, and his studio became a temporary home to a donkey, a cat, dogs, a wolf, monkeys, a ewe with lambs, a fox, a crane, a frog, and even a bear. Only the lion and the elephant proved too much for the sculptor to handle, and he was obliged to refer to the menageries on Fontanka and at Tsarskoye Selo.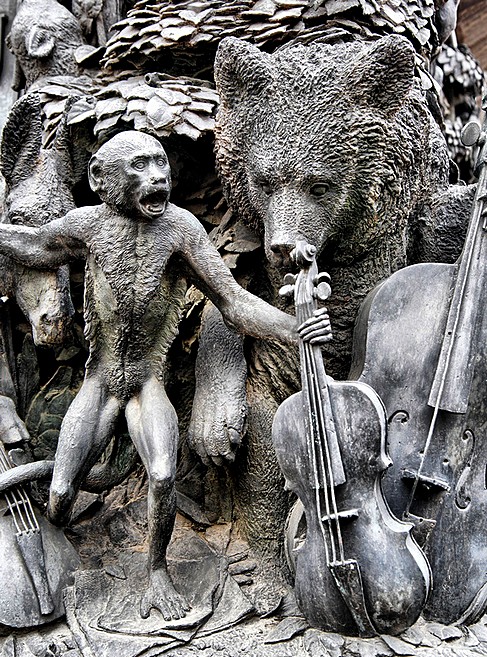 Detail of Monument to Ivan Krylov in the Summer Garden
The monument was commissioned in 1844. However, it took nearly a decade to decide on a suitable site for the statue. Among the locations considered were the Imperial Public Library, where Krylov had worked for nearly 30 years, St. Petersburg University, of which he was an honoured member, and the artists' cemetery at the Alexander Nevsky Monastery, where he is buried. Eventually the fortuitous decision was taken to place the monument in the Sumer Garden, where Krylov loved to walk and read, and there it has become one of St. Petersburg's best loved statues.
| | |
| --- | --- |
| Metro: | Nevsky Prospekt/ Gostiny Dvor |
| Getting there: | From the eastern exits of either metro station (for Mikhailovskaya Ulitsa or Sadovaya Ulitsa), cross Nevsky Prospekt using the underpasses (straight across the road from Gostiny Dvor) and walk north up sadovaya Ulitsa until you pass the Mikhailovskiy Castle and cross the River Moyka. The entrance to the Summer Garden is a few meters to your right along Ulitsa Pestelya. |
| What's nearby? | Summer Garden, Field of Mars Summer Palace of Peter the Great, Mikhailovskiy Castle, Fontanka River, Moika River, Mikhailovskiy Garden |
Dining near the Monument to Ivan Krylov
RESTAURANTS:
Editors' picks