Memorial to Victims of Political Repression
During the period of Perestroika and on into the 1990s, as Russians began to come to grips with the horrific and long suppressed history of repression and state murder in the Stalin era, monuments began to appear to the many millions who had suffered and died at the hands of the Soviet authorities. Among the largest and most striking of these is this haunting work by the artist Mihail Chemiakine, a prominent member of the Leningrad nonconformist art community forced to leave the Soviet Union in 1971.
Using as his model the famous Egyptian sphinxes on University Embankment, Chemiakine created two figures that from a distance blend almost seamlessly into the granite landscape of the Neva River embankments. Up close, however, his sphinxes are discovered to be strangely emaciated, with jutting ribs and extenuated necks. From the side facing the Neva River, it can be seen that half their faces are in fact bare skulls. The upper pedestals of the two sphinxes are decorated with panels featuring quotations from famous poets and authors who were themselves victims of repression, including Osip Mandelshtam, Anna Akhmatova, Joseph Brodsky and Alexander Solzhenitsyn, as well as a facsimile of the signature of the Swedish diplomat Raoul Wallenberg who, after saving tens of thousands of Jews from the Nazis in Hungary, disappeared after being captured by the Red Army. Between the two sphinxes stands a small composition of four granite blocks with a fissure between them like the window of a prison cell.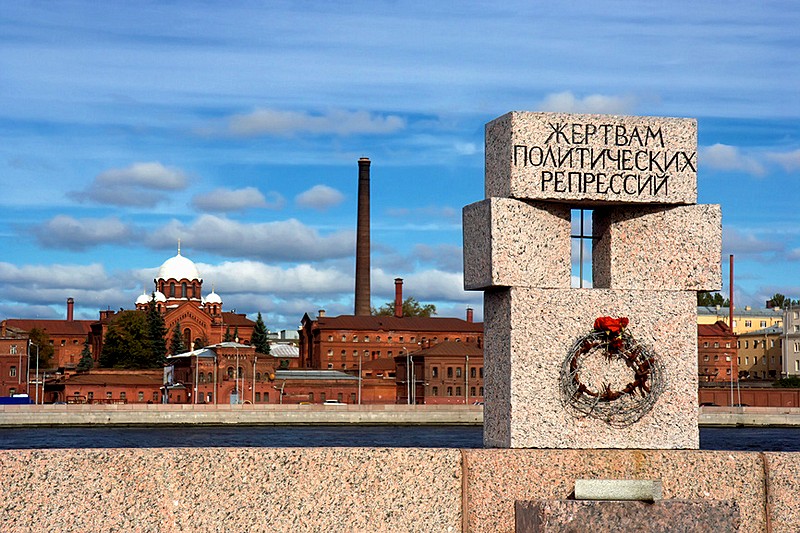 Detail of the Victims of Political Repression Monument with Kresty prison in the background
The monument was unveiled in 1995 on Robespierre Embankment (at present Voskresenskaya Embankment). The skulls of the sphinxes face across the river to Kresty, the notorious holding prison that processed many thousands of Leningrad citizens on their way to the horrors of the Gulag.
| | |
| --- | --- |
| Metro: | Chernyshevskaya |
| Getting there: | Turn left out of the metro station and immediately right onto Prospekt Chernyshevskogo. Walk along the avenue to the Neva River, turn right and walk along the embankment around 100m to reach the memorial. |
| What's nearby? | Monument to Anna Akhmatova, Tauride Garden |
Accommodation near the Memorial to Victims of Political Repression
Dining near the Memorial to Victims of Political Repression
RESTAURANTS:
Editors' picks