Tauride Garden
The Tauride Garden was laid out in 1783-1789 on the estate of Grigory Potemkin behind the Tauride Palace from which it took its name. Potemkin was one of Catherine the Great's favorites (and lover, allegedly), and the Empress gave Potemkin the land and the title of Prince of Tauridia for his services in conquering ancient Tauridia (now the Crimean Peninsula). The Tauride Garden was landscaped in true Romantic style, designed to imitate nature, with ponds and canals and picturesque rolling landscape. Trees and shrubs were brought in especially from England.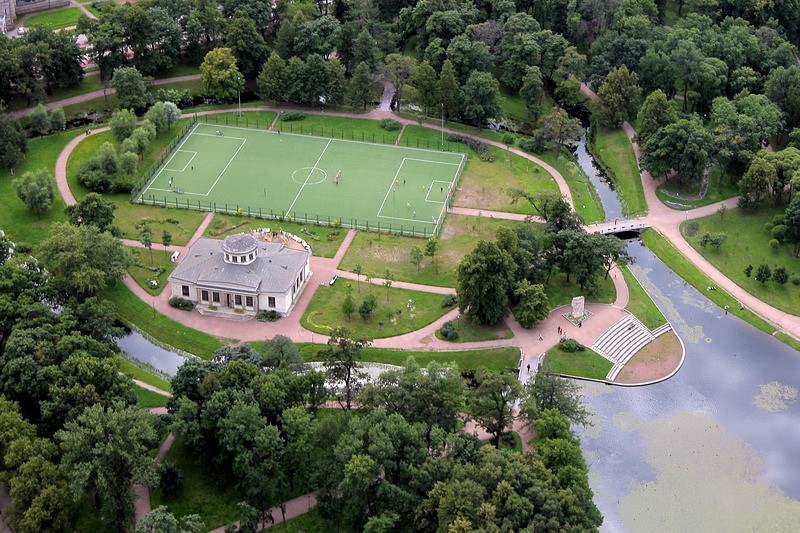 Aerial view of Tavricheskiy Garden
In 1866 the Tauride Garden was opened to the public, and became a favorite spot with city dwellers for walks and children's games. Artists held exhibitions here and free concerts were held, while in winter the ponds were extremely popular with ice-skaters - indeed the winter season skating there became known as "Tauride skating". Later in the 20th century sports facilities and attractions were put in.
During the Siege of Leningrad the Tauride Garden was used for the same purpose as many of St. Petersburg's other gardens, being turned into a vegetable garden to provide food for the city's desperate inhabitants. Also located here were garages repairing the trucks and other automobiles used to transport food and people along the Road of Life. The Tauride Garden was substantially damaged during the war, as a German bomber plane crash-landed on it on November 5, 1941. After the war the Tauride Garden was restored, and in 1962 a Monument to the Young Heroes of the Defense of Leningrad was unveiled.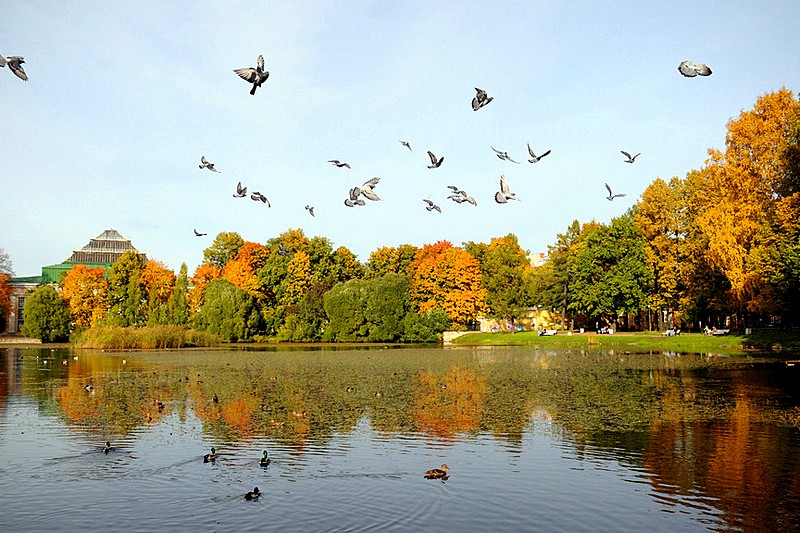 Autumn view of Tavrichesky Garden
In June 2003 the Parliamentary Avenue was opened as a present to St. Petersburg on its 300th anniversary. The dedication ceremony involved parliamentary heads from CIS countries as well as representatives of European parliaments. Recently the Garden has acquired statues of Tchaikovsky and the poet Sergei Esenin.
How to Get There:
Take the metro to Chernyshevskaya station, exit onto Furshtatskaya Ulitsa (turn right out of the metro and then left around the kiosks), and head right along to the end. One of the entrances to the Tauride Garden is located across the street.
Timeline:
| | | |
| --- | --- | --- |
| 1783 - 1789 | - | Tauride Garden laid out by I. Starov. |
| 1896 | - | Fence put around the Garden. |
| Late 19th-early 20th century | - | Garden partially redesigned. |
| 1962 | - | Monument To the Young Heroes of the Defense of Leningrad unveiled. |
| 2003 | - | Parliament Avenue opened. |