Monument to Alexander Pushkin on Ploshchad Iskusstv (Arts Square)
There are several statues of Russia's greatest poet, Alexander Pushkin, in St. Petersburg but the finest of them is probably that which stands in front of the State Russian Museum on Ploshchad Iskusstv. The monument was created by sculptor Mikhail Anikushin and erected in 1957 to mark the 250th anniversary of the founding of St. Petersburg (the city was, of course, founded in 1703 but the death of Joseph Stalin in 1953 delayed celebrations by a full four years).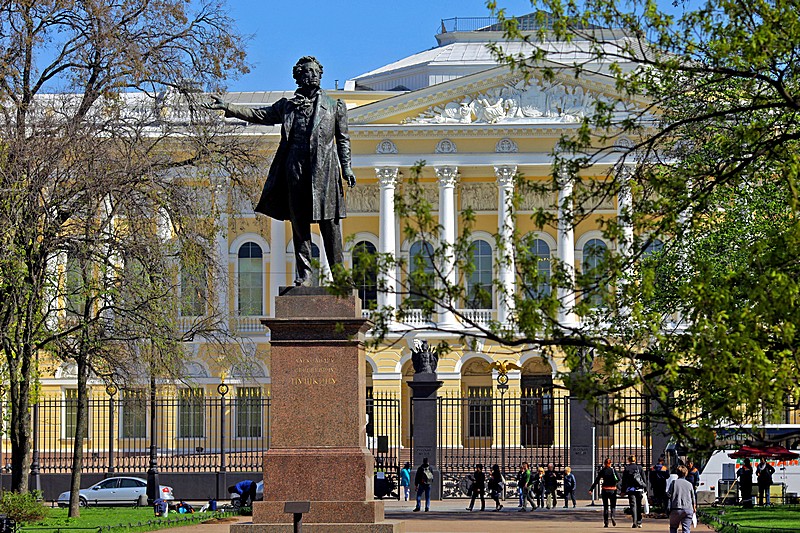 Monument to Alexander Pushkin in front of the Russian Museum
Awarded the Lenin Prize in 1958 for his work, Anikushin said of his subject: "Pushkin was a man of very vivid character, straightforward in his actions and clear in his thoughts, therefore I tried to get rid of all superfluous details... I wanted the monument, the figure of Pushkin to radiate joy and sunshine". Anikushin went on to design another statue of the poet, which stands at the end of the platform at Chernaya Rechka Metro Station.
This monument was the first in St. Petersburg to be designed and built exclusively by Russian craftsmen. The sculptor was Mikhail Kozlovskiy, and he was assisted by the architect Andrey Voronikhin. The monument was originally erected on the bank of the River Moyka not far from the Mikhailovskiy Castle but in 1818 on the suggestion of Carlo Rossi was moved to the center of the newly created Suvorovskaya Ploshchad.
Dining near the Monument to Alexander Pushkin on Ploshchad Iskusstv
RESTAURANTS:
Editors' picks