Radisson/Rezidor's superior business brand, Park Inn has expanded rapidly in St. Petersburg, taking over two of the city's most famous Soviet-era hotels, and then opening a brand new property next to Moscow Rail Station.
89, Nevsky Prospekt, St. Petersburg, 191036, Russia
Show on map
2.88 km
Nearest metro:
Ploshad Vosstaniya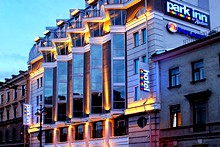 Unlike other St. Petersburg hotels in the Park Inn portfolio, the Park Inn Nevsky was purpose-built and opened in 2011, and thus fully conforms to all the chain's international standards from the outset. As well as a prime location a few steps from Moscow Railway Station, the hotel has a full range of superior business and leisure facilities, including a convivial Bavarian brew-pub and restaurant, stylish meeting venues, and a 24-hour fitness room. Complimentary Wi-Fi Internet is available throughout the property.
»»»
14, Ulitsa Korablestroiteley, St. Petersburg, 199226, Russia
Show on map
5.65 km
Nearest metro:
Primorskaya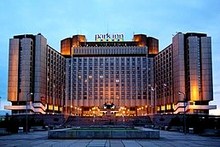 St. Petersburg's largest hotel, this enormous Soviet block on the coast of the Gulf of Finland is slowly being integrated into the Park Inn brand. Standard Rooms are still in need of renovation, and the sheer size of the property (1 200 rooms) means that it will never be the most charming of hotels. Nonetheless, it does have a good range of services and facilities, including the most extensive MICE venues in the city and a wide range of sport and leisure activities on offer. The location is convenient for Lenexpo exhibition centre, but not much else.
»»»
1, Ploschad Pobedy, St. Petersburg, 196240, Russia
Show on map
10.71 km
Nearest metro:
Moskovskaya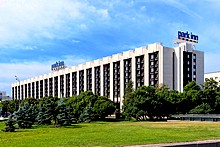 Designed to accommodate international guests close to Pulkovo Airport, the Pulkovskaya Hotel was built in 1982 on Ploshchad Pobedy in the far south of St. Petersburg. As well as being close to the airport, the hotel is only a short walk from Moskovskaya Metro Station, providing fast access to the city centre. While Park Inn's management of the property has so far only introduced quite minor changes, the Pulkovskaya was a reasonably good standard hotel anyway, with a full range of business and leisure services, including its own German brewpub.
»»»