Pietro Antonio Rotari
Painter
Born: Verona - 30 September 1707
Died: St. Petersburg - 30 August 1762

One of the greatest foreign artists to work in St. Petersburg, Pietro Antonio Rotari led a peripatetic life, painting the portraits of royals and nobles in Dresden, Vienna and Munich before arriving in St. Petersburg in 1756 on the invitation of Empress Elizabeth to work as court portraitist. Among his many works, his most famous are portraits of the empress and the members of her court, such as: "Portrait of the Empress Elizabeth in a Black Mantilla" (Peterhof Grand Palace), "Portrait of Countess A.M. Vorontsova" (Hermitage Museum), "Portrait of Grand Duke Pyotr Fyodorovich" (Hermitage Museum) and many others.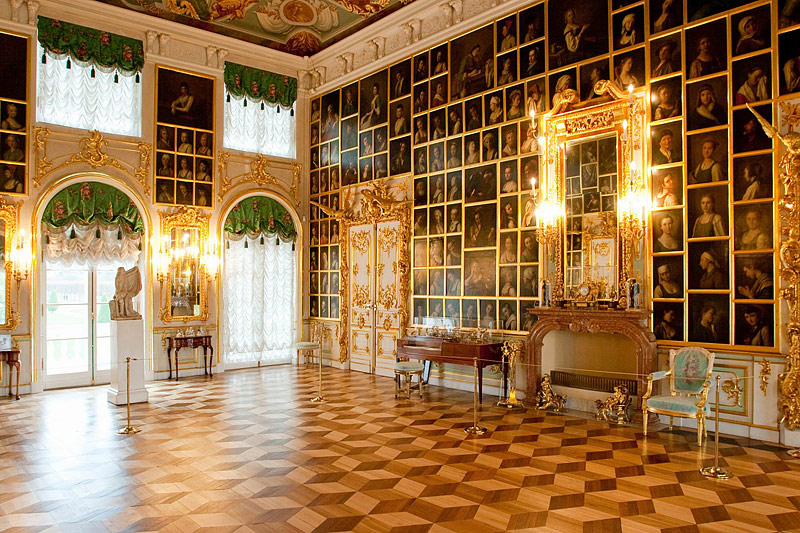 Cabinet of Fashions and Graces (or the Painting Hall) in the Petehof Grand Palace
Besides these court portraits, however, Rotari's primary activity in Russia was to paint a huge number of small portraits of anonymous Russians. Moreover, Rotari was very interested in clothing and became an expert on national costume. Among his works there are models of Polish, Hungarian, Turkish and Russian dress.
After his death in 1762, Catherine the Great (whom he had painted three times) bought from Rotari's widow all of these paintings and used them to decorate one of the rooms of the Petehof Grand Palace. Decorated by Jean-Baptiste Vallin de la Mothe, the Cabinet of Fashions and Graces (or the Painting Hall) contains 328 of Rotari's portraits, covering every wall almost from floor to ceiling. His works are also exhibited in Oranienbaum, Empress Elizabeth established the Cabinet of Rotari, housing 22 of his paintings.
Works: Cabinet of Fashions and Graces (Grand Palace, Peterhof), Cabinet of Rotari (Grand Menshikov Palace, Oranienbaum), Portrait of Empress Elizabeth in a Black Mantilla (Grand Palace, Peterhof), Portrait of Countess A.M. Vorontsova (Hermitage Museum), Portrait of Grand Duke Pyotr Fyodorovich (Hermitage Museum), Portrait of Duke A.M. Golytsin (Academy of Fine Arts Museum), Alexander the Great and Roxanne (Hermitage Museum)