Grand Menshikov Palace
The lands on which Oranienbaum and the town of Lomonosov were established were first presented by Peter the Great to Grand Duke Alexander Menshikov around 1710. At the time, Menshikov was overseeing the fortification of the sea fort at Kronshtadt on Kotlin Island, 5km from the site across the Gulf of Finland.
Menshikov began to build his residence here in 1713, at about the same time as Peter began work on his own estate at Peterhof. Menshikov seemed intent on outdoing his master in terms of scale and grandeur, and commissioned architects Giovanni Mario Fontana and Gottfried Schadel, who were already building the Menshikov Palace in St. Petersburg, to design his seaside palace. After over a decade of work, which eventually bankrupted Menshikov, the palace was completed.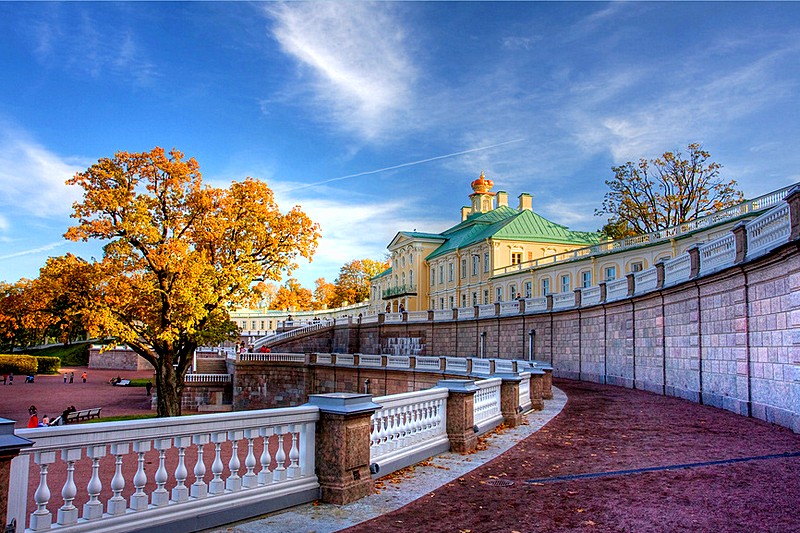 Grand Menshikov Palace in Oranienbaum
Facing the sea, with a two-level terrace in front of it, this charming yellow and white building consists of a concave central block with two single-storey galleries leading to prominent octagonal pavilions, one of which houses the palace chapel. On the south side of the building, two large ancillary wings, the Kitchen Wing and the Ladies' Wing, run from the pavilions perpendicular to the central block.
Menshikov had little time to enjoy his new palace before he was arrested and exiled in 1727. The estate at Oranienbaum was passed to the state, and Menshikov's palace became a naval hospital. In 1743, the estate was presented by Empress Elizabeth to her nephew, the future Peter III, who commissioned Francesco Bartolomeo Rastrelli, the greatest late baroque architect working in Russia, to renovate the palace. Rastrelli left the exterior of the palace almost untouched, but created sumptuous interiors that have, sadly, long since been destroyed. At this time, the western pavilion became known as the Japanese Pavilion, thanks to the collection of Japanese and Chinese ceramics it housed.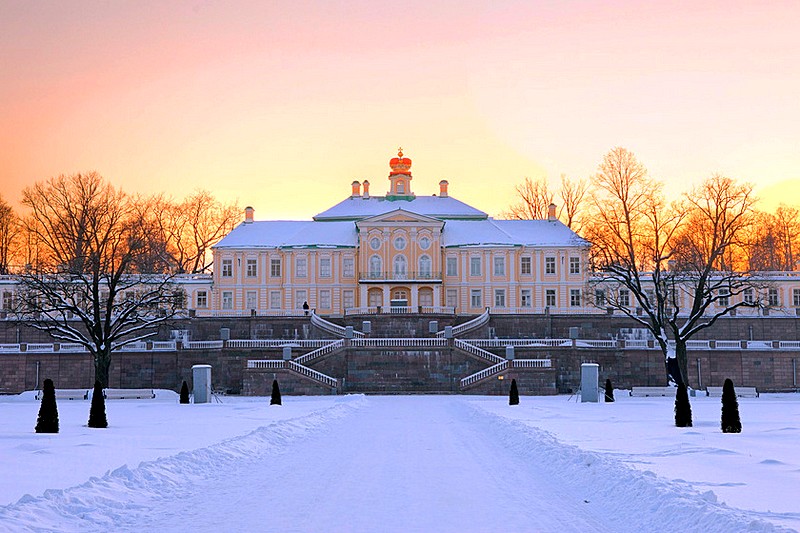 Grand Menshikov Palace in Oranienbaum dominates the surrounding grounds
The palace was altered again in 1762 by Antonio Rinaldi, who added a granite staircase and semi-circular balcony to the northern terraces and redecorated many of the interiors. After serving as a Naval Cadet College from the end of the 18th century, the palace was used as a residence by both Alexander I and his brother Mikhail. During the 19th century, several famous architects, including Luigi Ruska, Carlo Rossi, and Vasiliy Satsov, reworked the interiors of the palace.
Today, while the Grand Menshikov Palace is still extremely impressive from the outside, its interiors are in a parlous state, and major renovation work still needs to be done to prevent parts of the building collapsing. For visitors, there is little to see except a collection of portraits of the various owners of Oranienbaum.
| | |
| --- | --- |
| Open: | Daily, 10:30 am to 6 pm. Last admission is at 5 pm. |
| Closed: | May 1 to October 9: Monday. October 10 to April 30: Tuesday and the last Wednesday of each month. |
| Admission: | Adult: RUB 400.00 Children: RUB 200.00 |
| Photo and video: | Not allowed |
| Accessibility note: | Sorry, this museum is not wheelchair accessible. |