Konnogvardeyskiy Manege (Horse Guards Riding School)
Prominently positioned opposite St. Isaac's Cathedral, the Konnogavrdeyskiy Manege, the riding school of the Life Guards Cavalry Regiment, was built at the very beginning of the 19th century as part of a series of projects to create two more major central spaces in St. Petersburg - St. Isaac's Square and Senate Square.
Konnogvardeyskiy Manege (Horse Guards Riding School) viewed St Isaac's Cathedral
One of the last works of the renowned neoclassicist Giacomo Quarenghi, the Konnogvardeyskiy Manege was built 1804-1807 and boasts arguably the finest classically-inspired facade in St. Petersburg. The statues of Castor and Pollux with rearing horses that flank the main portico are copies of those standing in front of the Quirinal Palace in Rome, and were added in 1816. The building's bas-reliefs, also on equestrian themes, were added in 1837. In 1840, the priests of St. Isaac's Cathedral complained that the presence of naked statues of pagan gods so close to the cathedral was sacrilege. Castor and Pollux were moved to behind the manege, and only restored to their rightful place in 1954.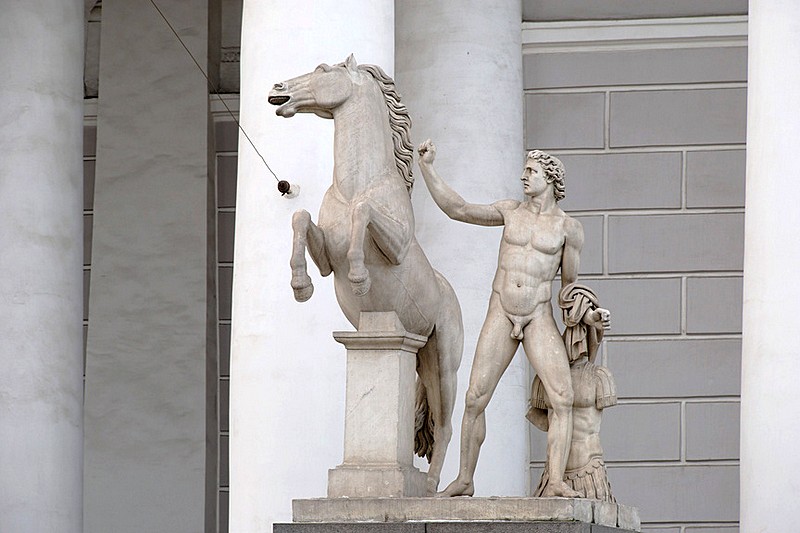 Statue next to the Horse Guards Riding School
The Manege was designed to host official parades and dressage demonstrations, as well as for training cavalry officers and, as it belonged to one of the most elite regiments in the Russian army, the Imperial family were regular visitors to the building. In the 1830s, the Manege was designated as the central garage for the NKVD (the forerunner of the KGB) and reconstructed accordingly, with the addition of a second floor and a ramp leading to it. After further reconstruction in 1977, the Manege was opened as the Central Exhibition Hall, used for a wide variety of temporary art and craft exhibitions, and trade fairs.
| | |
| --- | --- |
| Address: | 2, Konnogvardeskiy Bulvar |
| Metro: | Admiralteyskaya |
| Getting there: | Turn left and left again out of the metro station onto Malaya Morskaya Ulitsa. Walk to the end of the street and straight across Isaakiyevskaya Ploshchad. Turn right past St. Isaac's Cathedral, and the Manege is the first building on your left. |
| Open: | This exhibition facility is open while temporary exhibits are in progress. |
| Telephone: | +7 (812) 314-8253, +7 (812) 314-2243, +7 (812) 314-8859 |
| Website: | http://www.manege.spb.ru/ |
| Admission: | Prices and opening times vary depending on particular exhibit. |
| Photo and video: | free/included |
| Accessibility note: | Limited wheelchair access only (ramps). |
| What's nearby? | St. Isaac's Square (Isaakiyevskaya Ploshchad), St. Isaac's Cathedral, Alexandrovskiy Garden, Senate Square (Senatskaya Ploshchad), Senate and Synod Building, Bronze Horseman |
Dining near the Konnogvardeyskiy Manege
RESTAURANTS:
Editors' picks