Assignation Bank Building
The source of the first paper money to be circulated in Russia, the Assignation Bank was founded in 1769 on orders of Catherine the Great. In 1782, Catherine issued a decree for the construction of a building to house the bank to be designed by the Italian architect Giacomo Quarenghi, one of his first major commissions in St. Petersburg. Now, the building is the central campus of Finec, the prestigious St. Petersburg State University of Economics and Finance.
As gold and silver were required for expenses on foreign wars, Russia found itself flooded with copper rubles, making anything larger than day-to-day payments extremely inconvenient. It was therefore decided to follow foreign models and issue "assignation rubles", promissory notes tied to the copper currency (the silver ruble was a parallel currency, and quite soon had a much greater value than the assignation ruble).
Quarenghi's building was designed for the issuance of these notes, the storing and minting of copper coins, and for providing savings and loans banking to the Petersburg public. The site chosen for the building had previously been occupied by the Sea Market, the wooden constructions of which had been destroyed in a fire. Quarenghi provided an exemplary neoclassical design, with a central three-storey corpus housing the bank itself, and a horseshoe-shaped structure, linked to the main corpus by galleries, to house the bank's storerooms and mint. The back of the building faced the Catherine Canal (now Griboedov Canal), making it easier to bring metal coins to the bank by barge. In 1817, the ornate wall fence with cast-iron railings and gates facing the canal was added by Luigi Rusca, followed a decade later by Wilhelm von Traiteur's famous Bank Bridge in front of the gates.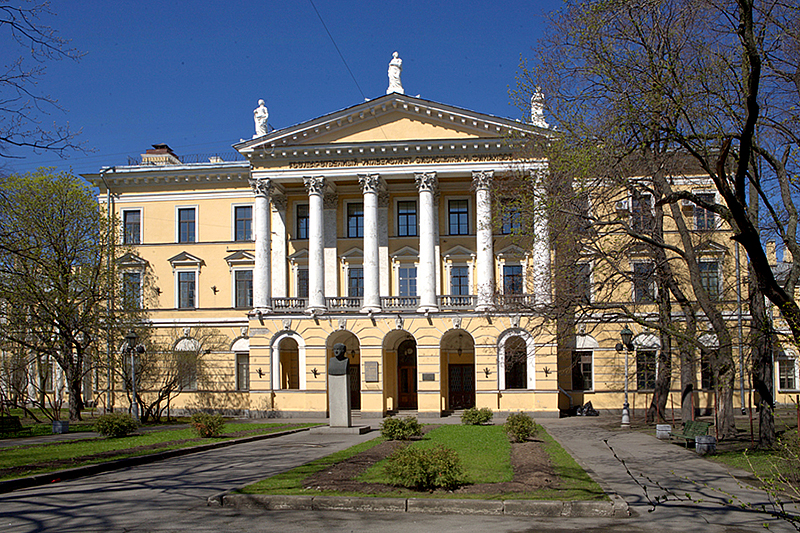 Main building of the Assignation Bank
Due to its devaluation, the Assignation Ruble was withdrawn from circulation in 1843, and the bank's duties were assumed by the State Russian Bank. In the 1930s, the Leningrad Financial-Economic Institute took over the buildings. In 1967, a monument was erected to Quarenghi in the square in front of the building from the Sadovaya Ulitsa side.
Address:
21, Sadovaya Ulitsa / 30, Naberezhanay Kanala Griboedova
Metro:
Nevsky Prospekt / Gostiny Dvor, Sadovaya / Sennaya Ploshchad / Spasskaya
Getting there:
To see the main facade from Sadovaya Ulitsa, exit Gostiny Dvor Metro Station and turn right then right again down Sadovaya Ulitsa, or from Sennaya Ploshchad Metro Station, cross the road and turn right up Sadovaya. The bank is roughly 300m from either metro station.
To see the bridge and Rusca's wall from the Griboedov Canal, exit Nevsky Prospekt or Gostiny Dvor Metro Stations via the canal vestibule, cross Nevsky Prospekt and walk around 200m along the canal to the bridge.
What's nearby?
Bank Bridge (Bankovskiy Most), Bolshoy Gostiny Dvor, Maly Gostiny Dvor, Apraksin Dvor, Griboedov Canal, Vorontsov Palace
Dining near the Assignation Bank Building
RESTAURANTS:
Editors' picks