The Bank Bridge
Just a few minutes' walk down the Griboedov Canal from Nevsky Prospekt and Kazan Cathedral, St. Petersburg's Bank Bridge is one of the world's most beautiful pedestrian bridges, thanks to the glorious sculptures of golden-winged griffons by famous local sculptor Pavel Sokolov. At 1.85 meters, it is also the narrowest in the city, a miniature architectural gem.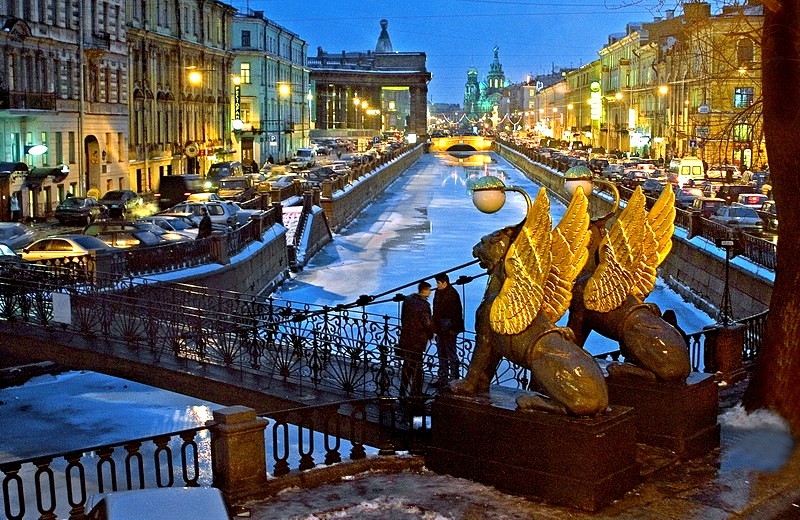 Bank Bridge over the Griboedov Canal on a winter evening
The bridge takes its name from the Assignation Bank, one of Russia's first public banks, which was housed in the beautiful neoclassical mansion next to the bridge, now home, appropriately, to the St. Petersburg State University of Economics and Finance. Like many of the bridges across the Griboedov Canal, Bank Bridge was built in 1825-26 to a design by German-born engineer Wilhelm Von Traitteur. Like the nearby Lions Bridge, the Bank Bridge is a small pedestrian suspension bridge, whose innovative design hides the bridge's supports inside elegant sculptures.
The deck of Bank Bridge is wooden, keeping the structure relatively light, and it has been replaced several times in nearly two centuries. As well as the griffons, Bank Bridge features beautiful cast-iron railings, notable for their ornate, palm-frond design. The original railings were removed at the beginning of the 20th century, and the current railings were installed in 1952, recreated from the original designs.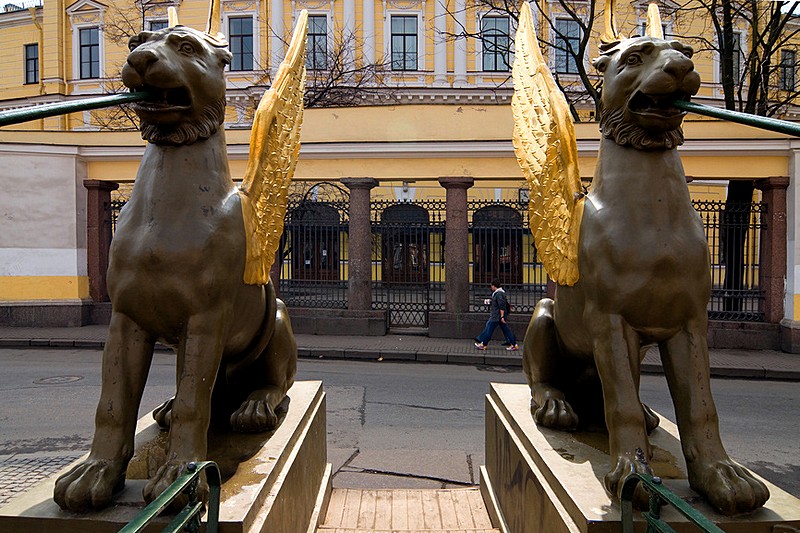 Griffins on Bank Bridge over the Griboedov Canal
The griffons, which are unquestionably the main attraction of the bridge, are one example of numerous monumental sculptures in St. Petersburg by Pavel Sokolov. Sokolov was a graduate of the Imperial Academy of Art, who was most famous for his sculpture Milkmaid with Broken Pitcher in the Catherine Park at Tsarskoe Selo until, in 1825, he was commissioned to design not only the griffons for Bank Bridge, but also the lion statues for the Lions Bridge, and the sphinxes for the Egyptian Bridge. All of these sculptural ensembles have become emblems of St. Petersburg, and the griffons, with their strict classical form augmented by golden wings and beautiful curved golden lamp brackets, may be the finest of them.