For:

Close to the downtown
Good for train travel from Finland

Against:

Lack of atmosphere
Few hotels
The Vyborg Side is the area due north of the Neva River and St. Petersburg's historic centre. In the 19th century and on into the Soviet Era, the Vyborg Side was one of the city's main industrial centres, with several large factories including the Ericsson / Krasnaya Zarya telephone factory and the Nobel Machine-Building Plant. It has also, since the very early years of the city, been home to a number of military institutions, including what is now the Military Medical Academy, the campuses of which spread over several blocks near Neva River embankment.
The character of the area is thus very much industrial and institutional, although factories and administrative buildings are interspersed with a few historic apartment buildings constructed for the workforce, and even the odd industrialist's mansion. Further north the Vyborg District becomes a mass of modern housing developments, with a few fine Stalinist housing projects (as well as some pretty parks) around Lesnaya and Udelnaya Metro Stations. Apart from the Finland Railway Station and the splendid St. Sampson Cathedral, originally founded in 1709, there is little reason for most visitors to venture over to the Vyborg Side, and even less reason to stay there. If you do need to be in the area, however, there is a handful of reasonable hotels.
Recommended accommodation on the Vyborg Side:
2, Ulitsa Shostakovicha, St. Petersburg, 194358, Russia
Show on map
13.41 km
Nearest metro:
Prospekt Prosveshcheniya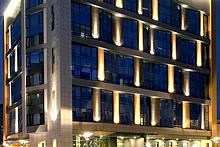 This full-service apartment hotel is located in the far north of St. Petersburg, about ten minutes' walk from Prospekt Prosveshcheniya Metro. While this rules it out for most visitors to the city, if you need to be in the area and are looking for inexpensive self-catering accommodation with good local amenities, Grand Kanyon is well worth considering, offering attractive and well equipped modern apartments, and with the benefits of a big shopping mall opposite.
3, Ulitsa Fokina, St. Petersburg, 194044, Russia
Show on map
3.31 km
Nearest metro:
Vyborgskaya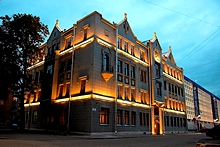 Occupying a beautiful early 20th-century apartment building close to the Bolshaya Nevka River and only five minutes' walk from Vyborgskaya Metro Station, this well-rated superior business hotel has a traditional British theme reflected in dark-wood furnishings and tartan fabrics. As well as modern, well equipped guest rooms, the Lancaster Court offers superior services and facilities for business travelers, including a fully fitted conferencing space.
5/2, Pirogovskaya Naberezhnaya, St. Petersburg, 194044, Russia
Show on map
2.48 km
Nearest metro:
Ploschad Lenina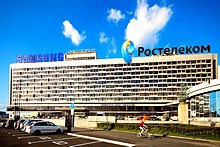 This Soviet-era hotel was the height of glamour and fashion when it opened in 1970, famed for its cabaret shows and hard currency bar. It's superb riverside location, just across from the Cruiser Aurora and with superb panoramic views over the Peter and Paul Fortress and the Hermitage, is still a draw, and the other major attraction is the hotel's very low rates, both for aging, unrenovated accommodation but also for quite attractive modern guest rooms in higher categories.
»»»