Cathedral of St. Sampson the Hospitable
One of St. Petersburg's oldest surviving churches, this charming azure and white baroque cathedral with its striking belltower is both an active church and a museum run by St. Isaac's Cathedral, with a fully restored and richly decorated interior containing several historic works of religious art.
The Cathedral's history dates back to 1709, when Peter the Great ordered the construction of a wooden church on this site to honour Russia's decisive victory over the Swedes at the Battle of Poltava, which fell on the feast day of St. Sampson - 27 June. One of the city's first cemeteries was established next to the church, and became the final resting place for some of St. Petersburg's most prominent foreign citizens, including the sculptor Carlo Rastrelli, the architect Domenico Trezinni, and Peter's private physician, Lavrentiy Blumentrost.
The stone cathedral and belltower replaced the wooden church in 1740. Although there are no records of the name of the cathedral's architect, it is presumed to be the work of Domenico Trezinni. Initially built with only one central dome, the cathedral was altered in 1761 with the addition of four smaller cupolas in traditional Russian style.
In 1909, on the bicentenary of the victory at Poltava, a memorial plaque was placed on the side wall of the belltower engraved with Peter's speeches before the battle and in memory of those who died. A statue of Peter by sculptor Mark Antokolskiy was erected opposite the cathedral.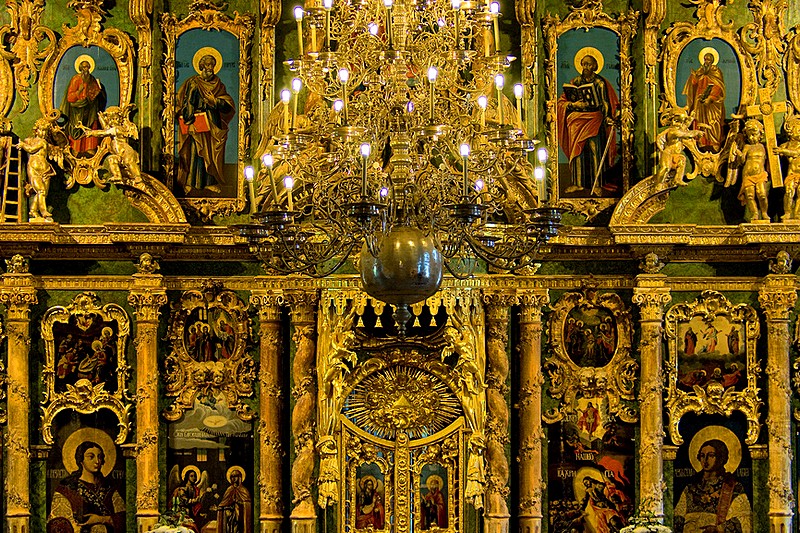 Carved gilded 18th century iconostasis in St Sampson Cathedral
At the end of the 1930s, the cathedral was closed, its interiors ripped out, and the building turned into a warehouse for the storage of vegetables. The monument to Peter the Great was moved to the Tretyakov Gallery in Moscow. However, in the 1970s, the Cathedral was taken over by the St. Isaac's Cathedral Museum, completely restored, and used to display historic works of religious art and church decoration. To this day, the museum's rich collection includes several splendid icons from the 17th and 18th centuries, a superb 18th century carved iconostasis, and a beautiful carved alter that was found during restoration, carefully hidden behind marble panels. The Cathedral is now still owned by the state, but since 2002 has been used for religious worship as well. In 2006, a copy of the monument to Peter the Great was erected in front of the cathedral.
The Cathedral of St. Sampson is well worth a visit for those with an interest in Russian church architecture and decoration, although it does require a separate trip from the centre. The beautifully restored interior is packed with historical relics, and richly decorated with frescoes and ancient icons. As an official museum, the cathedral is also designed to cater for visitors, with plenty of information available and helpful personnel. Services are held at the cathedral on weekends and holidays. There is a small entrance fee for visitors to the cathedral.
| | |
| --- | --- |
| Address: | 41, Bolshoy Sampsonievsky Prospekt |
| Metro: | Vyborgskaya |
| Open: | Daily 11 am to 7 pm. Last admission is at 6 pm. |
| Telephone: | +7 (812) 314-2168 |
| Website: | http://eng.cathedral.ru/sampsonievskii_sobor/ |
| Admission: | Free. Audio-guide (in Russian, English, German, French, Italian or Spanish): RUB 100.00. |
| Photo and video: | free/included |
| Accessibility note: | The church is wheelchair accessible (special ramps were installed) |
Dining near the Cathedral of St. Sampson the Hospitable
RESTAURANTS:
Editors' picks