For:

Neighborhood with historic character
Wide accommodation choice

Against:
This area to the south of Nevsky Prospekt and east of the Fontanka River was, in the pre-Revolutionary era, a middle-class residential neighborhood perhaps best known for its connections to Fyodor Dostoevsky, who spent his latter years in an apartment on Kuznechniy Pereulok, now the Dostoevsky Memorial Museum. His memory is honored in the names of several local addresses and institutions (including a few hotels), and there is a monument to him on Vladimirskaya Ploshchad, opposite the Church of the Vladimir Icon, a magnificent 18th century that acts as the focal point of the area. Further south along Zagorodny Prospekt, the Vitebsk Station is the neighborhood's other major landmark, a beautifully preserved Art Nouveau masterpiece serving trains to/from Belarus, Ukraine and Moldova.
The district has a fairly high concentration of hotels, and combines relative proximity to St. Petersburg's main tourist area with a handful of interesting visitor attractions of its own, as well as good local conveniences for shopping and eating out. For the former, Kuznechny Market is particularly worth visiting, while for the latter head to Ulitsa Rubinshteina, which has become a St. Petersburg culinary centre over the past decade.
Recommended accommodation:
11a, Ulitsa Sotsialisticheskaya, St. Petersburg, 191119, Russia
Show on map
2.37 km
Nearest metro:
Zvenigorodskaya, Vladimirskaya, Dostoevskaya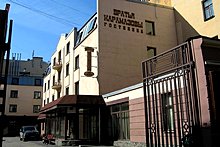 This popular small hotel, located around five minutes' walk from Vladimirskaya Ploshchad and the metro, offers a great combination of friendly, homely atmosphere and very stylish accommodation with some elegant vintage features. There are only 28 rooms at the Brothers Karamazov Hotel, which is situated within a courtyard ensuring extra peace and quiet. While facilities are minimal, the hotel does offer a welcoming and reasonably priced in-house restaurant.
»»»
13, Zagorodny Prospekt, St. Petersburg, 191002, Russia
Show on map
2.04 km
Nearest metro:
Dostoevskaya, Vladimirskaya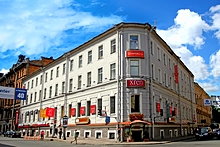 Another small hotel with a strong reputation, Fifth Corner won much acclaim for its designer interiors when it first opened over a decade ago. While in that department it has long been surpassed by newer properties, it still offers friendly service and fairly good including a modern conferencing venue, as well as quite stylish and exceptionally good value accommodation. The Fifth Corner is located about 200 meters south of Vladimirskaya Ploshchad and the metro.
»»»
11, Ulitsa Marata, St. Petersburg, 191119, Russia
Show on map
2.37 km
Nearest metro:
Mayakovskaya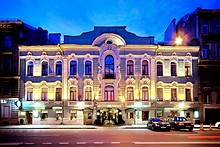 Housed in a beautiful 19th century mansion, previously the Swiss Consulate, on Ulitsa Marata and less than five minutes' walk from Nevsky Prospekt, the Helvetia Hotel has long enjoyed a reputation as one of St. Petersburg's very best small hotels. The 59 cozy and elegantly fitted guest rooms include a large apartment with self-catering facilities, while among the hotel's other attractions are two very good restaurants and a pretty courtyard used in summer for concerts and other cultural events.
»»»
12, Ulitsa Marata, St. Petersburg, 191025, Russia
Show on map
2.41 km
Nearest metro:
Mayakovskaya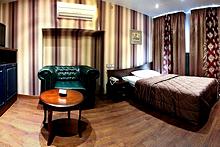 Located less than five minutes' walk from Nevsky Prospekt on Ulitsa Marata, the Martin Hotel is not to everyone's taste and has a couple of major drawbacks (lack of writing desks in rooms and incessant jazz music in bathrooms among them) but does offer extremely stylish and spacious guest rooms, decorated with taste and understatement unusual in the city. There are no extra facilities on site, but plenty of good dining options in the neighborhood.
21-23, Zagorodniy Prospekt, St. Petersburg, 191002, Russia
Show on map
1.94 km
Nearest metro:
Zvenigorodskaya/Pushkinskaya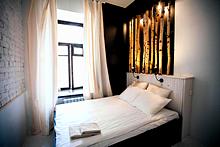 Affiliated to an experimental theater and arts venue, this small gesthouse a few minutes' walk from the Vitebsk Station can accommodate 35 guests in total, with private rooms with en suite bathrooms as well as dorms with bunk beds. Offering very stylish contemporary interiors and a superior range of amenities for a hostel including air-conditioning throughout and on-site bike rental, Taiga attracts a young and artsy clientele that is not always the quietest.