For:

Access to Pulkovo Airport
Grand Stalinist architecture

Against:

Distance from the centre
Lack of "Petersburg" atmosphere
In the late 1920s, a grand Soviet plan was formed for St. Petersburg (by then Leningrad) that envisioned moving the centre of the city away from the banks of the Neva River, with their Imperial palaces and grand cathedrals, to the south along the Tsarskoye Selo / Moscow highway. The focal point of these plans was the immense House of Soviets and the vast square in front of it, Moskovskaya Ploshchad. While war and economic constraints derailed these grandiose schemes, it was not before the stretch of Moskovsky Prospekt running south from the Moscow Triumphal Arch had become an almost uninterrupted showcase for the Stalinist Empire style of architecture.
Thanks to the superior construction quality of Stalin-era buildings (compared, at least, to what came after) and good transport links, the area remains one of St. Petersburg's most prestigious residential districts. For visitors, meanwhile, the main advantage is proximity to Pulkovo Airport. The choice of hotel accommodation at the airport itself still remains very limited, and outside rush hour the drive even from the northern part of the area takes well under 30 minutes, so unless you are on a very short layover, it's probably worth coming into town, especially when you can be in the very center of St. Petersburg by metro in around 15 minutes.
Recommended accommodation in the Moskovsky Prospekt area:
97A, Moskovsky Prospekt, St. Petersburg, 196084, Russia
Show on map
5.07 km
Nearest metro:
Moskovskie Vorota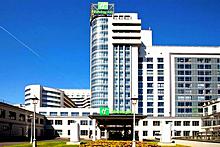 Located less than 200 meters from Moskovskye Vorota Metro Station, and hence only 15 minutes' journey from Nevsky Prospekt, St. Petersburg's only Holiday Inn is a large superior business hotel with extensive facilities for business and leisure, including some of the city's best modern conferencing venues, a gym, and even a children's playroom. Rates are reasonable (although extras such as hi-speed WiFi can add to the bill).
»»»
97V, Moskovsky Prospekt, St. Petersburg, 196084, Russia
Show on map
5.04 km
Nearest metro:
Moskovskie Vorota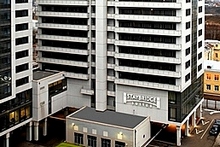 A sister property to the Holiday Inn, Russia's first Staybridge Suites is located in the same complex, so also offers a great compromise between fast access to the downtown (around 15 minutes by metro) and a quick drive to Pulkovo Airport. You can also enjoy the same extensive range of business and leisure services, while for only slightly higher rates you get attractively fitted, fully equipped apartments. Particularly recommended for business travelers on extended stays.
»»»
19, Ulitsa Zastavskaya, St. Petersburg, 196084, Russia
Show on map
5.55 km
Nearest metro:
Moskovskye Vorota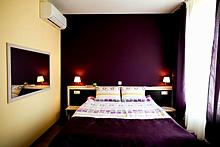 On a side street a short walk from Moskovskye Vorota Metro Station, this small budget hotel is fairly basic and looks like a dump from the outside. Once you get past the forbidding entrance, however, the hotel is actually quite cozy, and offers modern, air-conditioned guest rooms at very low rates. The Veles also has a small canteen, a sauna with plunge pool, and a few bicycles for hire. Staff are friendly, although their English language skills are limited.