Moskovskaya Ploshchad (Moscow Square)
This major St. Petersburg square, renowned for its fountains, could have been even more magnificent, if, in accordance with plans from 1938-1939, the center of the city had been moved here. Had the Second World War not intervened, a vast space for demonstrations and parades was to be built here and surrounded by monumental buildings in the Stalinist style. Now only the House of Soviets stands to eloquently capture the hubristic designs and real achievements of the great dictator's regime.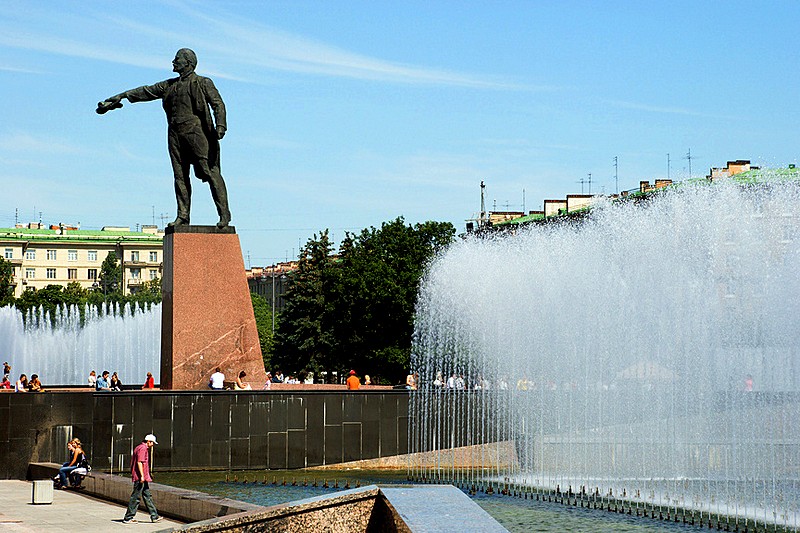 Musical fountains and the statue of Vladimir Lenin on Moskovskaya Ploshchad
In those years, the borders of the Soviet Union and Finland were a lot closer to Leningrad than they are now. If war broke out, enemy artillery guns could easily strike the administrative buildings in the historic center of the city. Therefore, a plan was developed to relocate the city administration buildings to a new place farther away from the border. For this purpose Moskovsky Prospekt was selected. The area of the new main square would have come out to an astounding 38-50 hectares. In comparison, the world's largest square, Tiananmen Square in China, measures 44 hectares. The House of Soviets, a Palace of Youth, a Palace of the Red Army and Navy, and various triumphal arches were among the structures planned for the new square.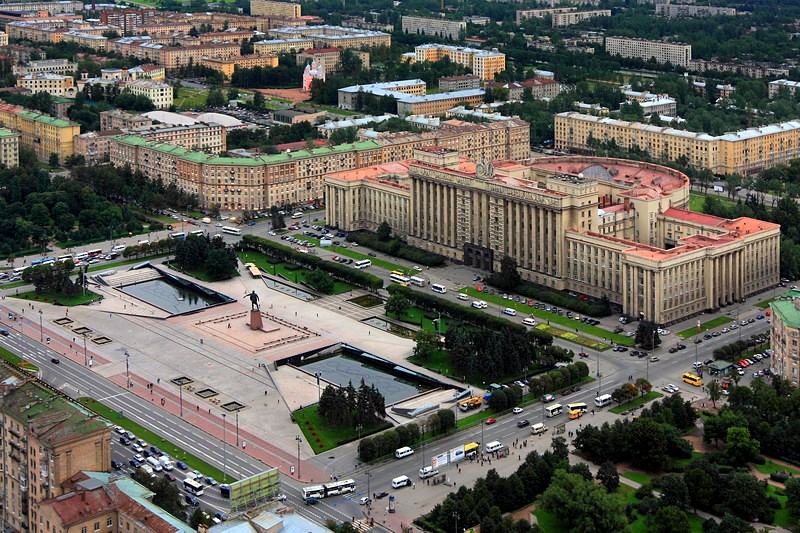 Aerial view of Moskovskaya Ploshchad and House of Soviets
The architect chosen to create this complex was Noy Trotsky, a prominent local architect who successfully adapted his style from constructivism to Stalin's preferred bombastic neoclassicism. Between 1936 and1941 the first of the planned buildings, the House of Soviets, was constructed. It was to accommodate the Soviet of People's Deputies, at the time the main legislative body of the city. It is the largest office building in St. Petersburg and one of the largest in Russia. Its main facade is 220 meters long and 50 meters high. The height of the emblem of the RSFSR on the roof of the building is 11 meters. However, when the Great Patriotic War began, the project to shift the center of the city was considered unfeasible, and the House of Soviets would in fact be almost on the front line when the Nazis invaded and besieged the city.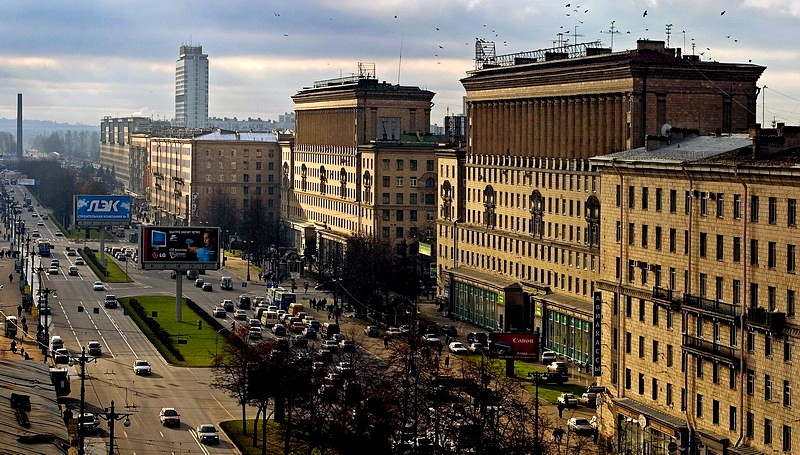 Stalinist Empire-style architecture at Moskovskaya Ploshchad
In the 1950s, "Stalinka" apartment buildings in the same totalitarian neoclassical style were built around the square. In 1970, a life-size bronze monument of Vladimir Lenin on a granite pedestal was placed in the center of the square, and in 2006, a series of eleven musical fountains were unveiled in front of the monument. On weekends and holidays starting at ten in the morning, every two hours classical music rings through the square for twenty minutes. While Moskovskaya Ploshchad is some distance from the centre of the city, many visitors find themselves there on their way by bus to/from Pulkovo Airport or the Imperial Estates of Pavlovsk and Tsarskoye Selo.
| | |
| --- | --- |
| Metro stations: | Moskovskaya |
| Directions: | All exits from the metro bring you out onto the square |
| What's here? | House of Soviets, Monument to Lenin, Fountain ensemble |
| What's nearby? | Moskovsky Prospekt, Leninsky Prospekt |