For:

Against:

Dirty and neglected
Far from sights and attractions
The Obvodny Canal marked the southern boundary of St. Petersburg for much of the 19th century, and the district it runs through gradually became the city's industrial heartland. The banks of the canal boast some magnificent examples of 19th-century industrial architecture, although sadly for the most part they are in a state of decay. The area around the canal has also suffered from considerable neglect, and is characterized by drab, crumbling apartment buildings from the late 1800s.
As a place to stay, there is not much to recommend the area except perhaps good value on some hotels. This is less true of the district directly adjacent to the northern end of Moskovsky Prospekt and Tekhnologicheskiy Institut, which is quite an attractive residential area and reasonably convenient for sightseeing. Otherwise, this area is probably best left for those who have to be here for work reasons, at least until the inevitable gentrification process gets under full steam in a few years.
Recommended accommodation:
2A, Rasstannaya Ulitsa, Bldg. 1, St. Petersburg, 192007, Russia
Show on map
3.59 km
Nearest metro:
Obvodny Kanal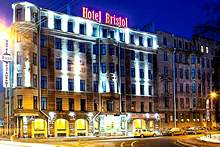 This small hotel about ten minutes' walk from Obvodny Kanal Metro Station offers excellent value accommodation and is highly praised by most travelers who have stayed there. Unfortunately, the location really has nothing to recommend it. If you have to be in the area, however, this is one of the better options, with compact but modern and quite attractively fitted guest rooms as well as quite a good pub-restaurant attached to the hotel.
249, Ligovsky Prospekt, St. Petersburg, 192007, Russia
Show on map
3.79 km
Nearest metro:
Obvodny Kanal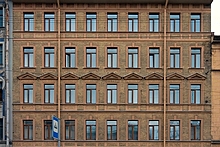 A budget option that's close enough to Obvodny Kanal Metro Station (around five minutes' walk) and Moscow Railway Station (three stops by bus or tram) to be worth considering, the Comfitel offers clean and quite spacious modern guest rooms at very low rates. It's worth spending a little extra to get rooms with air-conditioning, and bearing in mind that this five-story property does not have an elevator. The area around the Comfitel has little to recommend it.
»»»
3a, Bataysky Pereulok, St. Petersburg, 190013, Russia
Show on map
2.84 km
Nearest metro:
Tehnologichesky Institut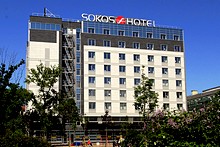 Located in a small park about five minutes' walk from Tekhnologicheskiy Institut Metro Station, this large modern property from the Finnish Sokos group offers very stylish four-star accommodation and a full complement of superior business and leisure services. The location is convenient for downtown sightseeing and business, and also offers fast public transport access (by metro and bus) to Pulkovo Airport, making the hotel a reasonably attractive option especially for business travelers.
»»»