The Piskariovskoye Memorial Cemetery
The sobering Piskariovskoye Cemetery is a poignant reminder of the scale of the tragedy the city lived through during the Second World War and (the 900-day Siege of Leningrad). For over 2 and a half years the Nazis kept Leningrad under siege, preventing any movement of people, food or armaments, but despite the horrors experienced by the city's residents, Leningrad did not surrender. In St. Petersburg we take pride in the fact that during almost 300 years of the city's history enemy forces have never invaded it.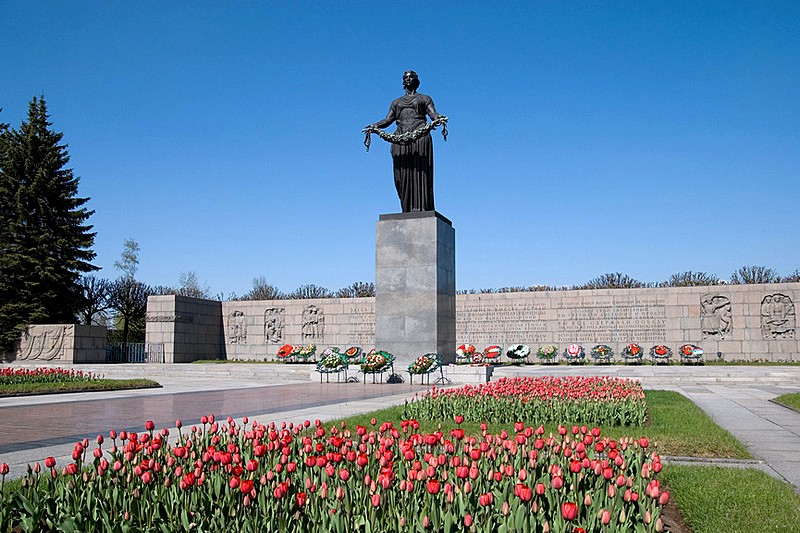 The Piskariovskoye Memorial Cemetery
Hundreds of thousands of people died in the city (mostly of cold and starvation) during the siege. About half a million of them, including 420,000 civilians, are buried in the cemetery's 186 mass graves. The slightly raised mounds are marked by year and a long alley leads the visitor to a monument with a statue of the Motherland, portrayed as a grieving woman. Many of St. Petersburg families come to the cemetery once or twice a year to bring flowers and pay tribute to the city's defenders, perhaps to members of their own family, who died during the Siege, which the Russians call Blokada.
Near the entrance there is an eternal flame, where everyone stops and gives a minute's silence in mourning for all those lost during the siege and two pavilions, housing an exhibit of moving photographs and documents depicting the siege. During summer time Russians drop coins into the small ponds in the cemetery, which go towards the maintenance of the site.
Location: Prospekt Nepokorionnykh.