The Mariinsky Opera and Ballet Theater
The world-renowned Mariinsky Theatre, known during Soviet times as the Kirov Opera and Ballet Theatre, reverted to its original name in 1992. The present building, which dates back to 1859, originally housed another theater but was remodeled and taken over by the Mariinsky company. During pre-revolutionary times the theater enjoyed royal patronage and has played host to some of Russia's most celebrated classical performers; Fiodor Shaliapin sang there, and the dancers Vatslav Nizhinsky, Matilda Kshesinskaya, Anna Pavlova also graced its stage.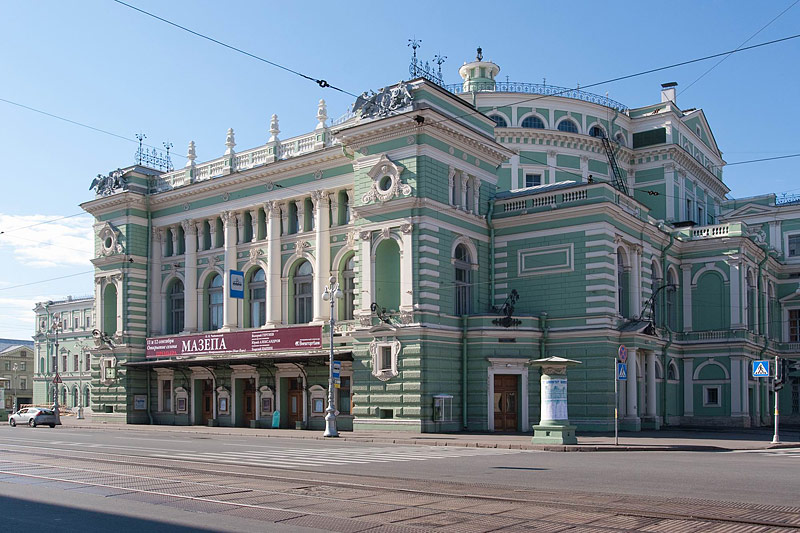 The Mariinsky Opera and Ballet Theatre
The building and its marvelous 1,625-seat auditorium were severely damaged during the 900-day Siege of Leningrad, but later restored in 1944. Since then the theater has maintained its excellent reputation, particularly for classical ballet. The theater rose to the dizzying heights of international success under the leadership of the conductor Yuri Temirkanov and the current Chief Conductor and Artistic Director Valery Gergiev. The theater's Ballet Department also flourished under the famous Leonid Yakobson and has enjoyed performances by the world-renown Rudolf Nureev.
Location: 1, Teatralnaya Ploschad.