Arts Square
Arts Square is a testimony to the effectiveness of the originally planning that went into the city. The square's plan was drawn up by the Italian architect Carlo Rossi, who spent most of his life working in Russia and is considered by many to be a native Russian architect (both his contemporaries and present-day art historians have tended to call him by his Russified name Karl Ivanovich Rossi). He was responsible for all the most prominent buildings built on the square, including the Mikhailovsky Palace, which today houses the Russian Museum. According to the "Classical" style of the day, all the buildings lining the square are similar in design and form a harmonious architectural ensemble.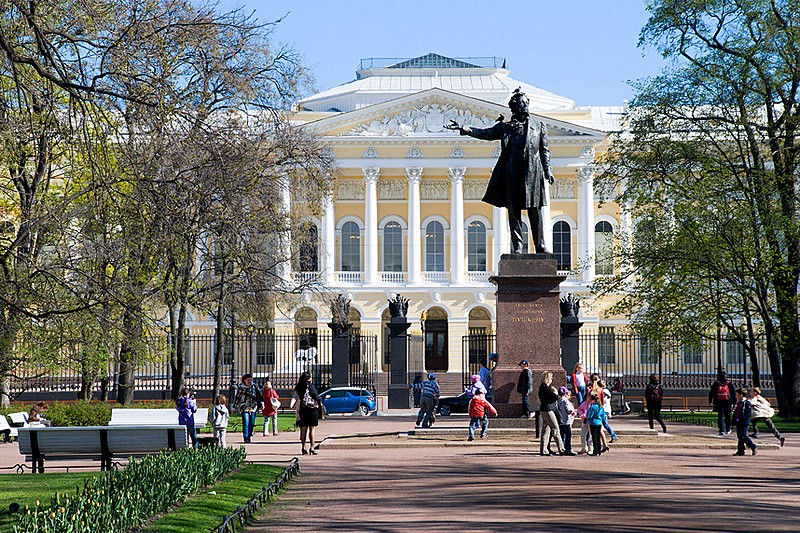 Arts Square, Statue of Alexander Pushkin and Russian Museum
Arts Square derives its name from the cluster of museums, theaters and concert halls that surround it. Some of the most notable include:
The Russian Museum, one of the country's two largest collections of Russian art.
The Ethnographic Museum, representing all the ethnic cultures of the former USSR.
The Maly Opera and Ballet Theater (also known as the Mussorgsky Theater), often referred to as "the city's second fiddle to the Mariinsky for opera and ballet" but still a well-respected and centrally located theater.
The Large Concert Hall (Bolshoi Zal) of the St. Petersburg Philarmonia – the city's prime classical music venue.