St. Petersburg Buses
The bus network of St. Petersburg is extensive, but can be a bit confusing for a foreigner. Bus stops are marked by signs with the letter "A", which stands for avtobus. Routes are listed on signs (double-sided) at most bus stops, but only in Cyrillic.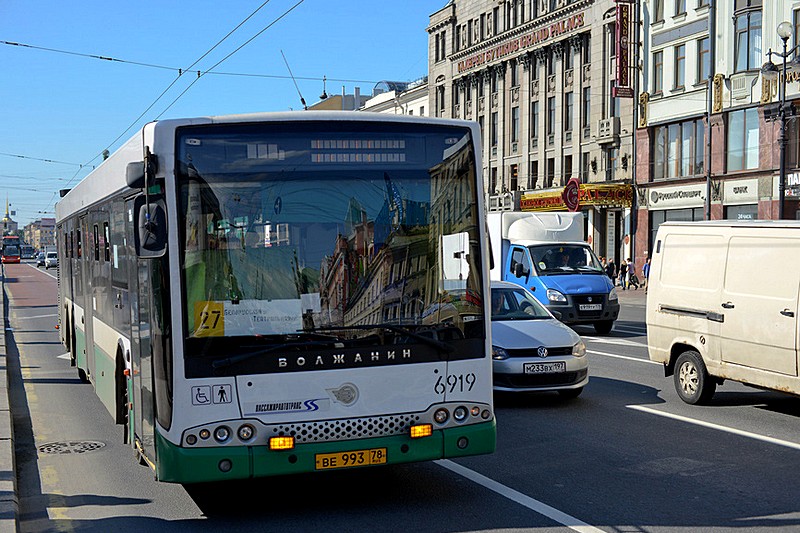 A typical St. Petersburg city bus in traffic on Nevsky Prospekt
Currently the city has several types of buses:
Regular buses are usually green-and-white or yellow and nearly always have conductors on board, although on a few routes you will need to pay the driver as you exit the bus. Normally, you should pay for your ticket in cash to a conductor or check your electronic pass on a card reader (the conductor may then check your card again).
T-buses are privately operated commercial buses (the K comes before the number on the front of the bus). They can charge more for tickets, and will not accept travel cards.
Plus there are vans and smaller buses, called "marshrutniye taksi" or "marshrutki". These are more popular in the newer districts of the city. You can find out more about them here.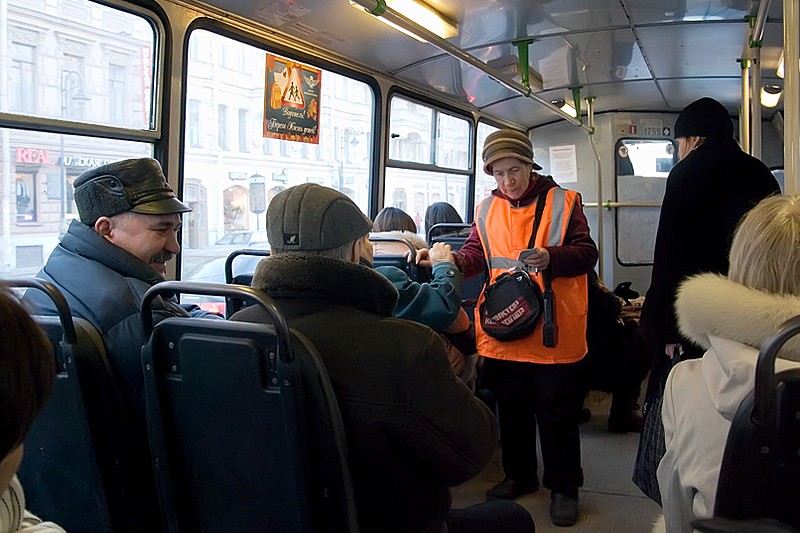 A conductor collects fares on a St. Petersburg bus
History of St. Petersburg Buses
The first buses started running in St. Petersburg in 1907, when a local entrepreneur opened two bus routes, which connected the city center with two of the city's major Railway Stations. After the Revolution bus services resumed in Leningrad on December 24, 1926. The first 5 buses started running from Palace Square to the Moscow Railway Station and the whole trip lasted for only 18-20 minutes.
Bus transportation in the city reached its peak in the 1980s. In the late 1980s there were about 200 bus routes served by 3 200 buses. Every year 1 200 million passengers use city buses.