Ploshchad Lomonosova (Lomonosov Square)
This square was created by the great architect Carlo Rossi. It is framed by a large architectural ensemble comprising of Ostrovsky Square, Alexandrinsky Theatre, and Theatre Street (now Ulitsa Zodchego Rossi). Therefore, to get acquainted with Lomonosov Square is to get acquainted with these places as well. Only then will the curious gaze of visiting eyes really capture one of the city's best ensembles of high classicism in all its glory.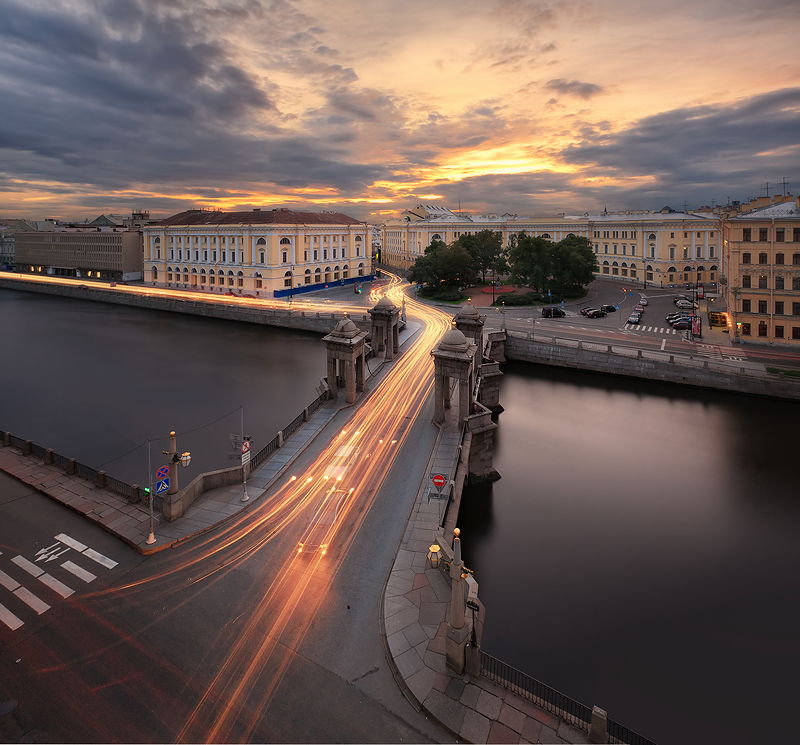 Lomonosov Square (Ploshchad Lomonosova) and Lomonosov Bridge
In the 18th century this was an empty space serving as the backyard of the Anichkov Palace near Chernyshev Lane. In the 1820s, the reconstruction of the territory was entrusted to Rossi. He designed a semi-circular area surrounded by several similar buildings. They housed the Ministry of Education of the Russian Empire and the Ministry of the Interior. Over Chernyshev Lane Rossi created one of his favorite arcs. The square itself was named Chernyshevsky.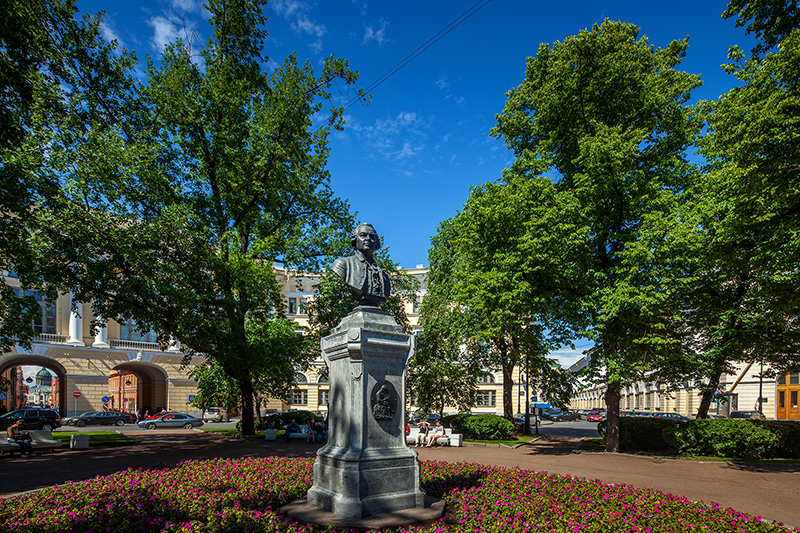 Statue of Mikhail Lomonosov and small garden in the middle of Ploshchad Lomonosova
In the late 1870s a park was built in the center of the square that was named in honor of the great Russian polymath and scientist Mikhail Lomonosov. In 1892, a bust of Lomonosov by sculptor Parmenas Zabello was placed in the park. Therefore, it is not surprising that in 1948 the square was renamed after Lomonosov, as well as Chernyshev Lane and Chernyshev Bridge over the Fontanka River.
| | |
| --- | --- |
| Metro stations: | Gostiny Dvor |
| Directions: | Exit Gostiny Dvor metro station and walk along Nevsky Prospekt to Ostrovsky Square, followed by Architect Rossi Street to Lomonosov Square |
| What's here? | Monument to Lomonosov |
| What's nearby? | Architect Rossi Street, Fontanka, Lomonosov Bridge, Anichkov Palace, Apraksin Yard |